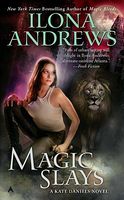 Kate Daniels may have quit the Order of Merciful Aid, but she's still knee-deep in paranormal problems. Or she would be if she could get someone to hire her. Starting her own business has been more challenging than she thought it would be -- now that the Order is disparaging her good name, and many potential clients are afraid of getting on the bad side of the Beast Lord, who just happens to be Kate's mate.

So when Atlanta's premier Master of the Dead calls to ask for help with a vampire on the loose, Kate leaps at the chance of some paying work. Turns out this is not an isolated incident, and Kate needs to get to the bottom of it -- fast, or the city and everyone dear to her might pay the ultimate price . . .

Comment: I loved this book. Curran and Kate are still one of my favourite couples in urban fantasy. Their relationship keeps strong and believable.

Well, this time Kate is a bit depressed because she's lacking clients in her business and she doesn't want to fail, so when a contract comes along, she jumps right into it. Then many wrong things start to happen and she looses control. She makes disturbing discoveries about her past, and we get to see more clues to her real upbringing.

I think one of the most wonderful things about this author's writting is the perfect balance between the overall storyline and the personal information we get about the main characters and some of the secondary ones. I never feel I'm being left out in knowing important things about them or about what's happening. Then there's the way they interact...it's really amaing to watch.

Another strong point is the fact we "see" the story moving along, there's always things happening in a way that is clear where things are going, even not knowing the how's of it. I believe this is quite well done. Many authors fail to move their stories in a balanced pace.

I like how the characters seem something and then we don't understand some things but in this case the characters usually justify their actions and it's interesting to watch their mental pathways to why they act the way they do.

All in all this series are totally worthy of the time and money we spend on them and I, for one, will religiously await for the next installment.