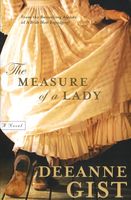 FIVE RULES FOR PROPER 19th-CENTURY LADIES
SPEAK POLITELY. Even when you're the only respectable woman around, protesting San Francisco's decadent surrender to gold fever.
DRESS MODESTLY. Wear your sunbonnet at all times. Ensure nobody sees your men's boots muddied by the city streets.
REMAIN DEVOTED TO FAMILY. Protect your siblings from the temptations that surround them, even against their wishes.
STAND ABOVE REPROACH. Most difficult when a captivating man turns out to be a saloon owner.
RISE ABOVE TEMPTATION. No accepting gifts. No bestowing favors. No impeachable behavior ... well, maybe just one...little...kiss?
WHEN THESE RULES BECOME INCREASINGLY DIFFICULT TO UPHOLD, CAN RACHEL VAN BUREN REMAIN A BEACON OF VIRTUE IN A CITY OF VICE?
Comment: This is the second book I've read by the author and I'm still happy with the style and stories.
In this book, Rachel and her brother and sister arrive to San Farancisco because their father told them there was gold to help them become rich but after all all things aren't that easy. Rachel is a proper lady and refuses to abandonn her beliefs to a life of indulgences in a city full of sin. Hwever, with a rebel sister and a virtual love interest, she doesn't know how to keep everything balanced in her life.
I enjoyed the book alot, I liked rachel and hr efforts to get a life for herself and her siblings in a way that's repected and proper. Things aren't easy and soon she realises she has to make some compromises. Still she keeps true to her feelings and beliefs, something I really enjoyed. Johnny, her love interest, is a quiet but strong person and helps everytime she needs and it's very good to see them fall in love.
I admit I got very angry at her sister's behaviour, she didn't realise how her actions were seen by others and although one must try to eb true to one's dreams and beliefs, there are limits.
I have another book by the author to read and but I'm sure it will be as good as this one and the other I had read before.