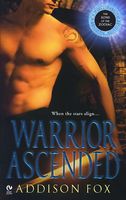 MILLENNIA AGO, THE GODDESS OF JUSTICE CREATED A RACE OF FIERCE WARRIORS, EACH IMBUED WITH A SPECIAL POWER OF THE ZODIAC AND CHARGED WITH PROTECTING HUMANITY FROM THE DARKEST OF EVILS.

Charming, proud, and impulsive, Leo Warrior Brody Talbot is fighting what may be his final battle. Enyo, the Goddess of War, plans to fulfill an ancient prophecy to destroy humanity by harnessing the dark power of the Summoning Stones of Egypt -- and there's only one person who knows enough about the stones to help Brody diminish their strength.

Since her father's murder, museum curator Ava Harrison has continued his research of Egypt's ancient treasures. She's just landed the exhibit of the century: displaying the Summoning Stones at New York's American Museum of Natural History. Used to working alone, Ava is suspicious of the arrogant archaeologist who's been brought in to ensure the stones' safekeeping, but his presence ignites an unexpected blaze of attraction.

Never in all his centuries has Brody met a woman who enthralls him as Ava does. But, bound to protect her, he struggles to deny his passion as they are drawn into a dark and dangerous final reckoning between good and evil.
Comment: Some friends have read this series already (I mean, the books already out) and most critics were good, so I jumped right in and bought the three books without reading the first before. Usually I don't do this, as I'm picky and if I don't like the first book in the series I probably won't read the rest.
Anyway, the story is centered about a group of warriors under the command of the godess Themis, to help humankind against another godess, Enyo, who wants their destruction. There are rules, though and plans to see through.
In this book, we follow warrior Leo, and his attempt to reunite some stones that will give their owner a huge power.
Brody, as leo warrior, disguises himself to get close to the stones and Ava, the person who is the key to them.

I think the romance isn't the most successful one, there were times I didn't feel the seriousness of the things happening because the sex gets in the way, not that there is too much sex, but because the focus on it happens - in my opinion- on the worst times possible. As a first book we are given a lot of information so there are quite some boring moments. Still, I am curious to meet more warriors and what they can do (as leo, Brody can creat an aura of a lion to help him battle the bad guys) and how will they meet their mates.
The end of this book was ok, and I'll read the next ones soon, but I know they will get better, I was told so, otherwise I might read them yes, but not in a near future.