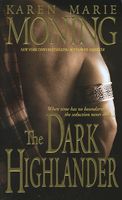 I am Dageus MacKeltar, a man with one good conscience and thirteen bad ones, driven to sate my darkest desires...

From his penthouse lair high above Manhattan, Dageus looks out over a glittering city that calls to the darkness within him. A sixteenth-century Scot trapped between worlds, he is fighting a losing battle with the thirteen Druids who possess his soul, dooming him to an eternity of sexual pursuit. When Chloe Zanders, student of antiquities, is drawn into his world, she finds the insatiable alpha male an irresistible lure.Before long, she is caught up in an ancient prophecy that will sweep her back into time to medieval Scotland. Plunged into a world of timeless magic and dark seduction, she will soon face the challenge of a lifetime: fighting thirteen evil spirits for the heart of one irresistible man....

Comment: I liked this book way more than the one before. I think the overall storyline was much better. I also think the scenes seemed more well done in this book, at least most of them didn't seem to have been "worked over", it makes the book look more fluid, like things run smoothly in this book. I think in part it's the storyline, and also the characters.
Dageus and Chloe are a couple that rings true, I think the chemestry between them was easier to believe than the one between Drustan and Gwen in the previous book.
One thing that really makes me think it's the small tidbits about fae, I mean I've read the other series the author has written and in there the focus is more on the story than romance, there's also writing differences, but the fae are portrayed in a certain way and some of the fae show up. I can't help but compare it and see how different it is. How is this, considering the two series cross in the other one and some things so important there (namely the fae court) seem almost inconsequential in this one?
I'll have to keep reading to see where this goes in this series.
Once again, I loved how some characters made an appearance again. I love seeing characters from older books, it doesn't seem the main characters live in a bubble with no else around, how strange is that? In this case, I liekd seeing some of them and enjoyed the story much more.
I'm happy with the way the HEA worked and will look forward to read Adam's story.