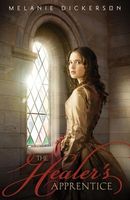 In this historical romance loosely based on the Sleeping Beauty fairy tale, a woodcutter's daughter becomes the town healer's apprentice. Rose's job is to care for the sick and injured in Hagenheim Castle. But she gets sick at the sight of blood and is more suited to making up stories than sewing up wounds. She is determined to overcome her weakness and prove herself a competent healer, or she faces marrying a disgusting old merchant her mother has picked out for her.
Lord Hamlin, the future ruler of the region, is injured and Rose must overcome her squeamishness to save him. He is everything that is noble and good, but loving him is forbidden. He is already betrothed to a mysterious woman in hiding.
With two noble-born brothers vying for her affections, Rose learns that the people of Hagenheim are not always who they seem.
Comment: I admit it, I confess it...I can argue what I want, but I confess I only bought this book because of its cover (blushing now)...
I avoided blurbs, comments, reviews, anything, in order to read the book without influence. This is a risk, after all God knows whatever is in there and one can be seriously disappointed. Or one can get a very good book or simply a passable one.
Clearly, if I had read the blurb I'd see it was directed more to teens than to adults, but after having read it, I don't think that it's that obvious because the story is set in medieval times and then a 17 year-old girl was considered in the perfect age to marry, so...
Rose is a poor girl who works as an apprentice to the castle's healer. She knows it would be a good path for her...or she would have to marry someone she doesn't like. The story follows Rose and her meetings with Lord Hamlin, the duke-to-be, and his younger brother. At first she starts to fall in love with lord Hamlin but he is betrothed and she tries to forget him...but in the end she can't.
I think the author was smart trying to put in some sort of fairy tale flavour in there but the writing still felt too simplistic to me. I mean, what do I know, I can't write, but the way I read it, it seemed so. I like the story and how it ended, although there's a time it becomes pretty obvious what's going on and how it will end. Some situations seemed to rushed, like she wanted them to happen but she introduced things too quickly, without much thinking. It works out, but I don't know, comparing to other medieval writers, like Elizabeth Chadwick, I think she has to work on her style a bit more.
Still, it was a good first effort anf I might read the next one one day...but for the next one I'll be reading the blurb first.