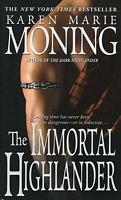 BEWARE: lethally seductive alpha male of immense strength and dark eroticism, do not look at him. Do not touch him. Do not be tempted. Do not be seduced.
With his long, black hair and dark, mesmerizing eyes, Adam Black is Trouble with a capital T Immortal, arrogant, and intensely sensual, he is free to roam across time and continents in pursuit of his insatiable desires. That is, until a curse strips him of his immortality and makes him invisible, a cruel fate for so irresistible a man. Now Adam's only hope for survival is in the hands of the one woman who can actually see him.
Enter law student Gabrielle O'Callaghan. For Gabrielle, cursed with the ability to see both worlds, Mortal and Faery, it is the beginning of a long, dangerous seduction. But as Adam's quest to regain his immortality plunges them into a world of timeless magic, the price of surrender could be their very lives. Unless they can thwart the conspiracy that threatens both Mortal and Faery realms . . . and give them a shot at a destiny few mortals ever know: glorious, wondrous, endless love . . .

Comment: This is the 6th book in the highlander series and I must say that I liked the fae part more than the romance.
The love story in the book felt more of the same old, and very similar to the other books. Truly, I have nothing against the fact the female protagonists are virgins, but for them all to just want to get rid of it, and fall helplessly at the men's feet...some change would be fun and even dynamic, in my opinion.
I think the best part was to see what happens in the fae world, what is started here and later on developped in the other series. I can't help thinking, what if i had read this before the other, like so many readers have? Would my idea of fae in the fever series change? Because now I can't ignore some facts and some things make more sense to me, but I'm glad i read the fever series first. Would this be redundant if I had read this one before? Because the truth is, what we know here seems to be unimportant in the great scheme of things, but in the other one is vital. This is quite the dichotomy.
Adam is a great character, I liked to see more about him, to see some of his fears and most of all, the decison he took in the end. Quite brave of him, but once again, I keep wondering, what if he were to have more power in what happens in the fever series? My mind starts to get fuzzy at this point lol
Apart from so many detailed sex scenes, there's nothing else I'd change in this novel...sometimes what is understood is more valuable than what we see.