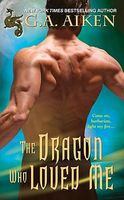 I was raised for battle. And as the first daughter of a warrior family, I've earned my reputation the hard way. Yet now I fight alongside uncivilized male Northland dragons who think a female is only good for breeding and waiting back home in the cave. But it's the foolish and foolhardy who would try to stop me, Rhona the Fearless, from doing what I do best - destroying the enemies of my kind. So the smartest thing wily barbarian Vigholf the Abhorrent can do for me is stay out of my way as we risk all on a deadly mission in enemy territory. I don't care if he's fascinated by me, even though he is as attractive as he is resourceful. He's having far too much fun putting me in difficult situations and testing my sense of duty to the limit. And I'm going to enjoy challenging his insufferable confidence, outwitting his schemes, and making him surrender in the wildest ways...
Comment
: I loved, loved, loved this book. I really liked seeing so many subplots taking place and how everything worked out. So good to see beloved characters and new ones, who might become protagonists. I think this is the best series with dragons I'm currently reading. Love this world, it's auto buy for me at this point.
* * *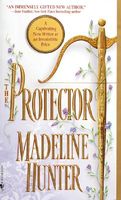 The first time he laid eyes on her she had come to his rescue with a sword in her hand. Still Morvan Fitzwaryn had never seen any woman who aroused his interest and his passion more than the unconventional Breton warrior beauty. Anna de Leon took him into her castle and nursed him back to health, little knowing the spark of desire she was feeding with her caring ministrations. It wasn't long before Morvan had vowed to protect and conquer this unconquerable woman with all the sensual weapons at his disposal.

For her part, Anna de Leon had no interest in men as lovers or husbands. She was used to commanding men in battle. But she suddenly had the strange feeling that her well-fortified defenses could be breached by this dark-eyed, smolderingly handsome English knight. When her castle is besieged by an old enemy who claims both her and her lands, Anna finds she has no choice but to accept Morvan's aid -- even if the enemy outside her walls is no match for the ally within, who with every tantalizing kiss and forbidden embrace threatens to make her a prisoner of her own fiery passion.
Comment: I like this author but I must say, in small doses. She's not my favourite wrioting historicals, being them medieval or regency. In this book I was often divided between hapy for Anna for being independent and resigned to see her capitulate part of it because of the times she was living in. Anyway, the romance was convincing and in the end I had a good time reading it. Also, it was good to see past characters. I alway love that in my books!