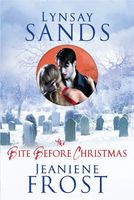 In Lynsay Sands' "The Gift," Katricia Argeneau knows grey-eyed cop Teddy Brunswick is her life mate. She just needs to convince him they belong together, and being snowbound in a secluded cabin will make this a Christmas neither will forget.
It's "Home for the Holidays" in Jeaniene Frost's Night Huntress series. Cat and Bones may long to wrap presents and set up a tree, but this Christmas, an evil vampire and long-buried family secrets will threaten to take a bite out of their holiday cheer.


Comment: When I realized this anthology featured two authors I like, I didn't think twice before buying it. It arrived and I was very happy with it, it has a shiny cover, perfect for christmas and the hardcover underneath has a beautiful design and colors. I know gorgeous covers don't mean good stories but hey, this is two authors I like, so I was on the mood for christmas right away.

The Gift - Lynsay Sands
In this story we see Teddy Brunswick again. He appeared in several Argeneau books, in one way or another. He is an old man and thinks he doesn't have anything else to give thw world, so he spends his christmas alone, after all most his friends have someone or are vampires themselves.
In comes Katricia Argeneau, she heard about Marguerite's matchmaker powers so whn she is told by her that Teddy might be her mate, she goes to the cabin near the one where Teddy is staying to see if it's true.
When they both realize he is indeed her mate, they must overcome Teddy's issues about being too old and the fact he had been in love with someone else.
I liked this short story because it brings many beloved characters, and we see Teddy having an HEA, after all he's done to help the Argeneaus he deserves it. When Katricia is putting a move on him he's confused because he can't understand what she sees in an old man, and his reasons seemed valid. I think the author portrayed well someone wanting to be happy but cautious. It warmed me how happy they got and it gives us hope too.

Home for the Holidays - Jeaniene Frost
In this short story Cat tries to make a surprise christmas/birthday party to Bones but in the end Annette is the one who comes up with the best present.
However, the present reveals soemthing deeper and it's not exactly what it looks like. With the help of Ian (of all people), Denise and the ghost Fabian, she has to help Bones and their friends before the present "wins" them all.
As always, I enjoyed a Cat and Bones story, it's wonderful to see their relationship is strong and tight. In this short they face an unknown enemy and things could have gone bad for them, but with the help of friends, Cat will avoid a bad end for Bones and herself. I really enjoyed knowing a bit more about Bones and Ian and in the end we have a surprise too.
I'm very happy with the story and we get a surprise, this is a great gift to the reader.

Both stories are set in worlds we've come to love so it's never a waste of money to get this great anthology, full of hope and promises, even after some bad things.