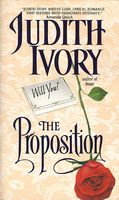 No man, gentleman or otherwise, has ever looked at Lady Edwina Bollash the way the brash, handsome man standing before her is doing now. Edwina has accepted the challenge to transform incorrigible Mich Tremore into a gentleman in just six weeks. And although the linguist is sure she can rise to the task, she isn't at all certain she won't swoon under his frankly sensuous gaze before her job is done.
Mick has lived outside of London society long enough to know that appearances can be deceiving. Edwina might look all buttoned up--the perfect English lady--but there is unleashed passion existing just below her placid facade (not to mention a great pair of legs!). And as she prepares him to take his place in society, Mick prepares Edwina to take her place in his heart...and in his bed.

Comment: This book was recommended to me by several people. They all said the story was good and then I saw the heroine didn't think much of herself and I was sold.
I love stories whre the heroine doesn't think she's good enough but with the hero's love she is proven wrong (oh the miracles of romance).
In this story we have Edwina, she's tall and has freckles and is getting old and is officially a spinster. Then there's Mick, he's poor, a ratcatcher and has several brothers and sisters to help feeding. At first they didn't think they could fall for the other but as time goes by they start seeing in each other the perfect person... Despite they start working together because of a bet, "My Fair Lady" style but in this case she teaches him, the feelings they start developping for each other are serious and ring true.
I have to say, this is such a romantic story. I loved the dialogue and the situations where the protagonists got themselves into and their thoughts felt real, I even felt like crying over a passage of two, such was the sentiment. Some sentences were very emotional, I believe the author has accomplished a great work in the protagonists characterization. There was plenty sexual tension and it was beautiful too.
I also loved the fact the man is the poor one, (although I prefer the opposite) and that his intentions were the best and he was a good person, happy with his life but happier with the heroine. Wonderful.
The end was rather huh? but didn't ruin the book for me, actually the last chapter made me smile because they were happy.
I spent a great time reading this and already recommended to many other friends as well.
It still makes me smile.