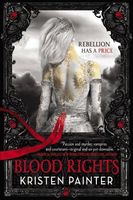 Gothic fantasy meets vampire fiction in Kristen Painter's debut series -- full of politics, intrigue, and blood.
When her wealthy vampire patron is murdered, Chrysabelle, becomes the prime suspect. Her body bears the telltale marks of a Comarré, a special race of humans bred only to feed vampire nobility, but Chrysabelle has far too many secrets and she's about to learn that her rebellion has a price.


Comment: The first thing that caught my eye in this book was, obviously, the cover. It's beautiful and the author was quite lucky to have such amazing covers for her books, considering she's relatively new.
The story is set in 2067 and focuses on Chrysabelle. She's a comarré, a human bred to feed vampire nobility, which means she belongs to the vampire who purchases her blood rights. However, the relationship only turns sexual if desired, it's not expected and Chrysabelle doesn't have that agreement with her master.
One night her master is murdered and she flees which allows other to consider her guilty. She looks for help and then comes Malkom, an anatema vampire, someone who was expelled from vampire nobility and society.
Together with some other characters, they will look for the real guilty of murdering Chrysabelle's master but unfortunally things from their pasts are on their way and nothing is as simple as it looked like.
I liked the story because it's new and different. It's not tha same vampire stories we're used to. The writing flows and most characters have something misterious about them that makes us want to read more.
The romance is very subtle, it's in the small things and they don't have sex in this first book, which increases the sexual tension. I liked the steady but slow developping of feelings between them.
The world the author created is very similar to ours but as it centers on the vampires, it can be read more like a fantasy, although I'd say it's more paranormal at this stage.
I'll read the others too, when my TBR list has a few less books in it. So far, I'm quite happy to have read and met this series.
There are five books to be released, according to the author. Three are already out.