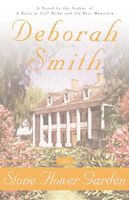 Proud and powerful, the Hardigree family was as unyielding as the Carolina marble that had made them rich. Ruled by her grandmother, ten-year-old Darl learned that privilege demanded distance from others. Yet nothing could keep her from Eli Wade, an untamed stonecutter's son from the wrong side of the tracks. Amid the pink stone flowers in her family's garden, their forbidden friendship blossomed. Then came the terrible day when violence ripped the town apart and sent the Wades packing. Darl knew the truth behind the crime but she could never tell it without destroying more lives. But a secret buried is a secret that will one day be unearthed. And twenty-five years later Darl's silence is tested--when Eli walks back into her life.
Comment: This is the last contemporary book by the author I've had to read. After reading the first one back in March (Gentle Rain), I have read one book by her every month.
Stone Flower Garden makes the read see the childhood of the protagonists and how they live as adults, where the cycle will close and hopefully a HEA will ocurr.
Darl has always been rich but her family has more secrets that one might imagine and when Wade family returns to town, some secrets are very close to be dicovered. Still, nothing stops her from being friends with Eli Wade, the poor boy who undertands her. However, with the fear the secrets might come to surface, Darl's grandmother tries to put the guilt of her sister's murder in Jasper Wade, but he dies in a confrontation with the police.
Years later, Eli wade is rich and helps Darl after a critic moment in her professional life and after that things just had to follow its curse...
Once again, a great book by the author. I feel she didn't push the sad parts and made the reading much easier. I like she makes the protagonists very human, with flaws and defaults but somehow they always have noble reasons even for their most doubtful actions.
Eli and Darl as kids were friends, different but honest to each other until family bacame a havy burden to Darl. As adults the attraction is there and it nedded some real trust to make them happy. I really liked the story...not as much as others, but a good book.
After having read her contemporay books as Deborah Smith, this is how I preferred her stories:
Gentle Rain
When Venus Fell
Charming Grace
Crossroads Cafe
Sweet Hush
Stone Flower Garden
Blue Willow
A Place to Call Home
Miracle
On Bear Mountain
Silk and Stone
Her books have a common theme:we always see the protagonists past and present, and after so many books it can becaome a bit repetitive, but her stories are great and I, for one, will buy more if she publishes them. I preferred stories lighter in tone, where the sad parts didn't devour the story making me remember only that. My top 3 favourites are cool, beautiful stories, where the HEA is masterful, to me.