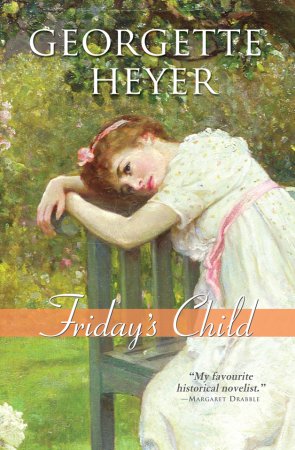 To orphaned, pixie-ish Hero Wantage, it seemed like a star-studded dream when dashing Viscount "Sherry" Sheringham asked her to be his bride--for although she knew it was a marriage of convenience (his convenience), it eliminated the depressing prospect of life as a governess.
But their marriage soon became a frenetic comedy of errors, as Hero tried to keep up with the fashionable and very unfamiliar society in which she now found herself. From chariot races to gambling tables to exclusive drawing rooms, an exasperated Sherry followed in his wife's wake, trying to clear the air after her well-intentioned but scatterbrained escapades. And it was with great surprise that both Hero and Sherry discovered that even a marriage of convenience can turn into a love affair, under certain circumstances ....

Comment: This was the last book I've read in december...well, that I've started, but I actually only finished it on the 2nd of january.
Anyway, It took me a great effort to start it. The beginning pages are a bit complicated and feel very boring. I had to push myself to keep reading.
The story is about Sherry, a young viscount who proposes to a young woman but she refuses him, so he gets angry and declares he will marry the next girl he sees. This girl turns out to be Miss Wantage, someone he knows since they were children. The thing is, he decides to marry her as an impulse, and gets her to London, where she starts her married live without ever been in Society, and she keeps making mistakes and doing things a Lady shouldn't do, thus making Sherry going after her all the time.
The biggest issue I had with this book was the language. It's much more formal and specific than anyhting I've read in other historicals. Even comparing it to the other book I've read by the auhtor and enjoyed (Sylvester), it seems more evident the fomality of the language. I had to read some sentences twice to get some points, which made this more difficult. However, this only happened until the main couple had their first fight. After that, it seemed to me the plot itself became simpler, and the pieces started to fit together and I managed to read faster.
The story is funny, and teaches not to give into all our impulses...I think all the relationships between the characters were well done and allowed me to have a greater picture of what was going on.
The characters, they all had a role but obviously the main couple was the funnier to watch. Sherry had many vices but with each mistake his wife does, she says it's because he said so, and he learns to grow up in order to help her. It's very amusing actually. I wasn't very convinced of their love, although in the end they declare it to each other, I think it could use some more passion, but this is the author's style so one learns not to expect it. Still, it would be interesting.
I'll certainly read more things by Gerogette Heyer but out of the three books I've read, Sylvester is still my favourite.