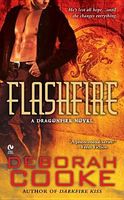 Master illusionist Lorenzo's dragon nature is his biggest secret. It's also another detail to juggle, like ensuring each of his Las Vegas magic shows is a true spectacle. That is until he feels the burn of his firestorm and his whole world shifts.
Lorenzo wants to satisfy the firestorm and put it behind him. But photographer Cassie Redmond is hard to forget. And when Slayers target the mate he didn't believe he wanted, Lorenzo realizes he'll do anything to keep Cassie safe...

Comment: This is the latest installemnt in the dragon series by the author. I absolutly loved this book! I'm very happy with this because the previous one wasn't the best in the series for me, so I'm not only happy with the book itself but also with the fact I did like it.
The story focuses on Lorenzo, a Pyr who doesn't care much for the Pyrs and is planning a way to disappear from the human radars as well as the Pyrs. He works as a magician and through his art he imagined a way to die without doubts and in a way that will be convincing. However, in mere three days before his final act, he meets his mate and has his firestorm. He's surprised but doesn't beleive in myths and thinks she won't get pregnant if they're together, so he satisfies the firestorm. But of course, things aren't as simple as he might think.
I liked the story a lot. I've read the book almost nonstop and only stopped because of RL demands. The plot was interesting, fluid, easy to follow, like all the pieces were there just waiting to fit. The romance was good too.
Both main characters had doubts in their confidance in relationships but in the end they overcame their fears of commitment and admited to each other - and themselves - that they were happier together. Lorenzo also started to imagine his son and it was so good to see him that way. In the end all the couples were together and it was great to see their companionship. We also see clues about the next stories, and the idea of who might be protagonist too.
This was a great book, I enjyed it immensely. I recommend it to everyone who likes dragons and romance.