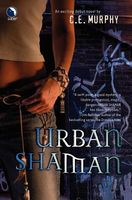 Joanne Walker has three days to learn to use her shamanic powers and save the world from the unleashed Wild Hunt.
No worries. No pressure. Never mind the lack of sleep, the perplexing new talent for healing herself from fatal wounds, or the cryptic, talking coyote who appears in her dreams.
And if all that's not bad enough, in the three years Joanne's been a cop, she's never seen a dead body -- but she's just come across her second in three days.
It's been a bitch of a week. And it isn't over yet.
Comment
: Another book read because of a book club. Actually I've had this one for - let me check - yep, more than one year in my TBR list because a friend whose taste is similar to mine in most things said it was very promising.
The book is about Joanne, she finds out she's a shaman, someone that has healing powers and fights her battles in an astral dimension. This is clearly a first book because it starts out a bit confusing and with lots of details that are explained throughout the story. Joanne seems to be a very normal person, apart from her powers. She's a mechanic for the police and she has friends, a boss who is aways close to fire her and a distant family she doesn't talk about.
The book starts when she's returning from her mother's funeral in Ireland - Joanne is part Irish, part Native American, and she sees something from the plane, a woman running from someone else and people think she couldn't but she is proven right with the help of the cab driver who takes her to the place where she saw the woman. From then on, Joanne has a series of adventurous and finds out more than she probably wished for about her powers.
I was sympathetic to Joanne's trials during the book because it was clear she didn't want her powers or her new duties but she accepts both anyway because she's that type of person. With this comes facing a whole new set of things, among those her inner darkness -metaphorically of course - and we find out things about Joanne that... well I wasn't expecting, and her character became much more intriguing.
The plot is quite interesting, it offers a lot of mythical lore about Celts and native American legends...ok, not a lot, but enough to give the story the necessary background to go forward. I like this part because it's interesting things and some I wasn't aware of. There was also a bit of mystery in there and in the end it surprised me too, the author has done a good job, rather subtle, not something purposely looking like suspense, but it gives a nice feeling to the story and it's something to hope to see again in the following books.
Then there's the lack of romance in this book, although her love/hate relationship with her book does offer some interesting possibilities. We realize Joanne's has had a not so good experience with love in the past but still she shows apparent stability and isn't against a romantic relationship, although she doesn't actively look for one, it's something we just
see
. This is another reason to keep reading.
There are some questions marks about Joanne's life that I'm curious about, so I'll keep reading. I know the same person who suggested it to me has said the books get better so I'm also hopeful.