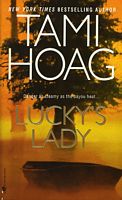 As wild and mysterious as the Louisiana swamp he called home, Lucky Doucet was a dangerously attractive Cajun no woman could handle. His solitary life left no room for the likes of elegant Serena Sheridan, but Lucky couldn't deny her desperate need to find her missing grandfather. He would help her, but nothing more--yet once he felt the lure of the flaxen haired beauty, an adventurer like Lucky couldn't resist playing with fire.
Serena felt unnerved, aroused, and excited by the ruggedly sexy renegade whose gaze burned her with its heat, but did she dare tangle with a rebel whose intensity was overwhelming, who claimed his heart was off limits? Deeper and deeper they traveled into the steamy bayou, until with one electrifying kiss her resistance melted into liquid desire. And the devilish rogue found he'd do anything to make Serena..
.
Comment:
This book was one of my Christmas presents. I was quite surprised to get it because the author never meant much to me besides the word thriller. But the friend who gave it to me said it was because I like books that aren't romance
per se
but have romance in it (and I do like these).
Although after having read it, I think that this book is more of a romance than anything else, it is centered too much on the inner struggle of both protagonists to be something else.
Lucky is a man with some issues, namely the expectations others have of him and the things he has done in his past. He doesn't seem to believe he has good qualities.
Serena is used to secure things and the swap where she grew up is definitely not one of them, so only really strong family ties make her return there. She requests Lucky's help to find her grandfather but she finds out more than she expected.
The story is about Serena's returning home and all the problems this means to her sister, Shelby, and her husband because they want a politic career for him and selling the house where they live would mean that, but Serena's grandfather doesn't want to sell and counts on Serena's sense of responsibility to avoid exactly that.
I liked the pace of the story and how slowly things were happening. To be honest, the suspense part in the book didn't catch my eye that deeply and although I was curious to know who was behind some bad things I wasn't worried that part of the story would steal the protagonism from the romance growing between Lucky and Serena. their story is romantic in a way, because they end up knowing each other for what they both are and that seemed the best part.
I can't say bad things about the book but it didn't rock my world either, so I think this is a safe story, you know, safe to read and know it will end up well and safe that won't challenge anything and does reinforce your ideas of what a HEA is supposed to be. For this alone it's worth reading and I'll treasure it but it's not the best book I've read.