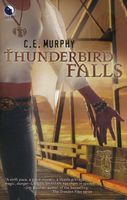 For all the bodies she's encountering, you'd think beat cop Joanne Walker works in Homicide. But no, Joanne's a reluctant shaman who last saved mankind three months ago -- surely she deserves more of a break! Yet, incredibly, "Armageddon, Take Two" is mere days away.
There's not a minute to waste.
Yet when her spirit guide inexplicably disappears, Joanne needs help from other sources. Especially after she accidentally unleashes Lower World demons on Seattle. Damn. With the mother of all showdowns gathering force, it's the worst possible moment for Joanne to realize she should have learned more about controlling her powers.
Comment: This is the second book in the walker papers series. I've read the 1st book last month and liked it enough to keep reading. I have to admit it, this one is much better than the first one.
In this story, Joanne, the main character has to help more people with her shaman powers but she's been avoiding them because she isn't yet sure she wants to believe in all that has happened so she doesn't control her powers. Then her spirit guide disappears after an unfortunate encounter with a strange thing in her astral plane and from then on Joanne seems to be on her own but apparently she's not...
In this book we see Joanne still struggling to accept and learn about her shaman powers. In the first book we've learned some things about her, so we know why it's difficult to her to trust her abilities to help others.She does some things she's not very aware of because she hasn't learned to control her powers and part of why this happens is due to her fear of failure, of doing something she's not ready for. But she did a sort of commitment in the previous book and now it's expected of her to go on.
I think it's important to say although books can be read out of order it's much better to not do it, because many things can get lost in the way. Besides, Joanne kind of evolved from one book to another...as well as the writing itself. In the fist one everything is confusing, new world and all that, but with just one more book the difference is obvious and this book, from the writing point of view is much more approachable.
Joanne also does some inner healing. She learns it's ok to take time to find more about what she can do, but of course this happens after she makes the mistakes...but with mistakes we learn.
Like I said the writing is much better, all difficulties of understanding what she's doing,t he transitions between the real world and Joanne's astral plane were hard to understand in the previous book but in this one it's like they slide easily.
I'm very curious to see if there's even more development in the next book and I'll be reading it next month.