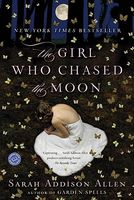 In her latest enchanting novel, New York Times bestelling author Sarah Addison Allen invites you to a quirky little Southern town with more magic than a full Carolina moon. Here two very different women discover how to find their place in the world...no matter how out of place they feel.
Emily Benedict came to Mullaby, North Carolina, hoping to solve at least some of the riddles surrounding her mother's life. For instance, why did Dulcie Shelby leave her hometown so suddenly? Why did she vow never to return? But the moment Emily enters the house where her mother grew up and meets the grandfather she never knew--a reclusive, real-life gentle giant--she realizes that mysteries aren't solved in Mullaby, they're a way of life.
Here are rooms where the wallpaper changes to suit your mood. Unexplained lights skip across the yard at midnight. And a neighbor bakes hope in the form of cakes.
Everyone in Mullaby adores Julia Winterson's cakes. She offers them to satisfy the town's sweet tooth and in the hope of bringing back the love she fears she's lost forever. In Julia, Emily may have found a link to her mother's past. But why is everyone trying to discourage Emily's growing relationship with the handsome and mysterious son of Mullaby's most prominent family? Emily came to Mullaby to get answers, but all she's found so far are more questions.
Is there really a ghost dancing in her backyard? Can a cake really bring back a lost love?
In this town of lovable misfits, maybe the right answer is the one that just feels...different.
Comment
: This author writes things with a little bit of magic. Her stories are contemporary but have a little extra int here that is special and magical.
This story is her third work, and I have to confess, after having read the three, I still prefer the first one,
Garden Spells
. I still have another to read,
The Peach Keeper
and will this year.

Well, this story starts when Emily returns to her mother's hometown to live with her grandfather. Her mother died and she feels she's looking for something and in the town she finds out many people have a different opinion of her mother from what she knew of her, so everything starts to look too mysterious for her and she wants to know the truth. At the same time, we have Julia, she's a baker and wants to pay the rest of her father's debts so she can leave for good, but one slip of the mouth and everything changes for her too.

What I like about this author's writing is the simplicity of it. She doesn't say 100 words for something that can be said in 30, you know. That's why the book isn't that big either. But even with a more direct writing, she manages to convey feelings and emotions and makes the reader to feel empathy towards her characters.
In this book we follow two stories. In one Emily has to accept a version of her mother she wasn't aware existed and in the other Julia has to forgive and move forward, but in a way that won't ruin her happiness. It's interesting how easily some things can be solved with a conversation, with communication, but people don't do it, they prefer to postpone and avoid and that will make the issues remain unsolved. In this book we see people talk and try and that's the best we can do.
In the end of the book there's a feeling of hope. Hope for both the main characters and promises of things to come, just a taste of possibility. Although I'd have, personally, preferred to see some more, to read about what might happen instead of just imagine it, I ended up enjoying the story. It's something beautiful and has a happy ending, which is always good.