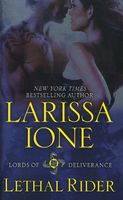 Thanatos, the most deadly Horseman of the Apocalypse, has endured thousands of years of celibacy to prevent the end of days. But just one night with the wickedly sexy Aegis Guardian, Regan Cooper, shatters centuries of resolve. Yet their passion comes with a price. And Thanatos must face a truth more terrifying than an apocalypse-he's about to become a father.
Demon-slayer Regan Cooper never imagined herself the maternal type, but with the fate of the world hanging in the balance she had no choice but to seduce Thanatos and bear his child. Now, as the final battle draws closer and his rage at being betrayed is overshadowed by an undeniable passion for the mother of his child, Thanatos has a life-shattering realization: To save the world, he must sacrifice the only thing he's ever wanted-a family.
Comment:
Another adventure by mrs Ione. I think this author is currently one of the best in paranormal romances not only because she writes interesting stories but also because she is consistent in her books. With this I mean she manages to surprise the reader with the content of each book but she doesn't make up strange or unnecessary subplots to give life to the books. Her stories work as they are and this is fine.
In

Lethal Rider

we have the story of Thanatos, another of the horsemen of the Apocalypse. It's important to mention that this series feels so much better if people have read the Demonica series first because there are so many things related to those books, several characters and issues in this book have a special meaning because of the previous books, that I guess those who haven't read anything else and start by this book (or whichever in this series) might feel not only lost in action but also missing out some references.
But back to Thanatos. He always believed something about his Seal and what it would mean to Humanity if the seal broke but after all what he imagined wasn't so, and it was proved in the previous book, therefore in this one he will try to solve things for himself and for Regan, the woman who showed him the wrongness of his idea for so long.
Regan is part of the Aegis and did what she dis because she believed it was her duty to help the Organization that always accepted her, but in the end her feelings change because she didn't see how affected she would end up by her choices.

I liked the romance between these two, it was more sweet than fast. There are some sex scenes but I feel they weren't as many or as long as in other books, which was a good by two reasons: first, it allowed more focus to be given to the plot and two, because sometimes too much gets too boring. This was something I welcomed well in the book. Sex just for sex gets repetitive in romances and doesn't ring true.

There are many plots happening at the same time. We get to see what happens to Pestilence, to Reaver, to Kynan, to the main couple, some new scenes with the Seminus brothers and even a couple of more characters that might become (or not) key in future stories. So, many things happening and I get that some people don't like too much stuff in their books, but I'm all for it and didn't mind the populated world.
In the end, Regan and Thanatos both admitted the reasons why the relationship between them wasn't something they thought might work but recognizing you love someone and that true affection doesn't make you do things you don't want or feel right was a huge step both had to make.
I liked the book a lot and now can't wait for Reseph's story, I sure hope he will properly redeemed.