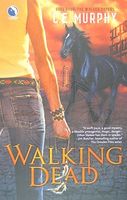 For once, Joanne Walker's not out to save the world. She's come to terms with the host of shamanic powers she's been given, her job as a police detective has been relatively calm, and she's got a love life for the first time in memory. Not bad for a woman who started out the year mostly dead.
But it's Halloween, and the undead have just crashed Joanne's party.
Now, with her mentor Coyote still missing, she has to figure out how to break the spell that has let the ghosts, zombies and even the Wild Hunt come back. Unfortunately, there's no shamanic handbook explaining how to deal with the walking dead. And if they have anything to say about it -- which they do -- no one's getting out of there alive.
Comment
: The 4th book in the Walker Paper series.
In this book Joanne has to fight evil ghosts and strange zombies, all because of Halloween. It all starts after she organizes a party and suddenly dancers are screaming inside a giant cauldron. Apparently the cause is the ghosts that tried to steal the dancers' bodies and occupy them. But things aren't that simple and the ghosts are children that just want a chance to live, but the reason they're dead proves hard to explain.
Joanne also has to deal with her feelings for Thor, her new boyfriend and what it means to have someone she cares about but who she doesn't trust yet.
Well, another great book by this author. I enjoy this series more and more with each book because the stories are interesting and all the loose ends are pretty tidied int he end. And while Joanne is dealing with all we also see a little bit more of her past choices, her thoughts and her continuous developing feelings for her boss. I was a bit worried at the beginning of this novel about Joanne's personal life in the matters of the heart because she seemed so desperate about her love in the previous book and if she had a boyfriend in this one, no matter how friendly..well, I knew it had to be one of two things, or she totally and unbelievable changed her mind or she was still in love with the other guy and this one was yet just a friend while she was trying to picture him in another position and failing. Ha. I knew it.
In terms of plot, I was convinced about all her struggles to try to solve the problems and I liked seeing Cernunnos and Suzanne (from book #1) showing up again and even helping in solving the mystery of who was the true guilty..yes because we suspect someone and after all it can't be that one. I think the end was sweet and I was also a bit sad over something because in the end the real hero was someone we didn't imagine and it allowed some heartfelt scenes between Joanne and other characters.
I think the author has managed to keep up with the interest and the desire to see Joanne triumph. She also mixes up the plot and Joanne's life in a very balanced way, which makes the book addictive and not boring. There's always something happening, and there's always the hope to know more about Joanne so, it's like we have to see what happens next while waiting to read the next scene and it's this over and over, very well done.
I'm very happy to be reading this series, much more than what I expected and trust me, it does get better wit each book.