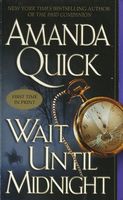 Gentle Reader,
It could have been a scene from one of my novels. As a rule, respectable ladies do not accept calls from Mysterious Gentlemen on business of the most grave importance--but I confess that I was possessed of a lively curiosity. The past three years had been so determinedly dull, I hoped Mr. Adam Hardesty would offer a tiny respite from it. Indeed, upon first glance, Mr. Hardesty had such a formidable, thrilling presence, he quickly became the model for the villain in the sensation novel I was currently writing.
Imagine my shock and distress then, when Mr. Hardesty accused me of being party to a plot of murder, blackmail, and general villainy! I knew nothing of such occurrences, and pro-claimed my innocence. Unfortunately, Mr. Hardesty left unconvinced, and I had an uneasy feeling over what his search would uncover. You see, Gentle Reader, though I live a most uneventful life now, my past contained a Great Scandal that would be ruinous if resurrected. To protect my secrets from Mr. Hardesty's investigation, I concluded that I would need to conduct an inquiry of my own, and if that meant sharing my findings with Mr. Hardesty, so be it. And my course of action had nothing whatsoever to do with the illicit, passionate feelings that he aroused in me--feelings that propriety would definitely frown upon...
Yours most sincerely,
Caroline Fordyce
Comment:
Considering I have about 10 more books by this author to read I've decided to read some in the next few months.
This month it was
Wait Until Midnight
, a purely random choice.
This book is the story of Caroline, she's a writer and very known. For her next novel she decided to investigate the so-called psychics and, because of that, she is seen in several meetings where she observes psychics and does research. The book starts with a murder, a psychic woman was murdered and Adam Hardesty is investigating it because the woman had a secret of his family and he wanted to find out if she had told someone else.
At first these two didn't seem to have much in common but Adam starts feeling very attracted to Caroline during the time they spend together to solve the murder. His family is special because his brother and sisters aren't related by blood, neither is their supposed grandfather. Still, he has managed to survive a poor childhood and remained a decent person. However, many people might disagree and use this to blackmail him, so he needs the proof the murdered psychic didn't share that information with anyone else. He's a strong and determined character, the usual kind of protagonist the author creates. Caroline, on the other hand, comes from a good family but was caught in a scandal where the was the least guilty but even nowadays her life could be ruined if people knew. Her writing is the source of income for her and her two aunts, so she is not only trying to do research, she's also trying to clear her name because she has participated in so many meetings she could be considered guilty of something.
These are the two main characters and their behavior and attitudes are the same as other protagonists the author has written. Still, I find this comforting because I know what I'm going to get and the idea of getting characters I'd like is like going back to cozy place, always nice. Sure, I'd like some more variety besides the names and live paths, but I like to see two apparent indifferent characters getting to know each other and feeling something, even if it appears they don't really care because of they way they're described.
The mystery gets more obvious as time goes by, but it does provide some interesting scenes.
I can't wait to read some, to see if any book will make me like it more than my current favorite, which is
The River Knows
.