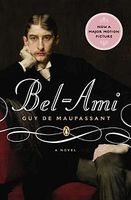 Bel Ami,

written at the height of Guy de Maupassant's powers, is a classic novel of seduction, intrigue, and ruthless social climbing in belle époque Paris.




Georges Duroy is a down-and-out journalist from a humble background who engineers a stunning rise to the top of Parisian society through his relationships with influential and wealthy women. Making the most of his charm and good looks (his admirers nickname him "Bel Ami"), Duroy exploits the weaknesses of others to his own advantage -- in the process betraying the woman who has most selflessly supported him. Published in 1885, Bel Ami is not only a vivid portrait of a glamorously corrupt and long-vanished Paris, but also a strikingly modern exposure of the destructiveness of unconstrained ambition, sex, and power.
Comment:
This is another book from one of my book clubs. It was one I never intended to read on my own will, but I can't say I regret it. It was actually a rather interesting and easy read.
Bel-Ami
follows the life and social climbing of George Duroy. He starts the book as a poor employee in a train rail always counting his pennies but after meeting by chance a friend from the times when they were both soldiers his life begins to change. His friend makes it possible for him to be a journalist and from there he meets many people, most of them influential enough to allow him a continuous climbing in the social ladder. We also see him dealing with several women in his life and although we (well, I, personally did) like him at first, he's so brazen that we chuckle at some of his antics and adventures. I found him funny and sly but harmless..he was just a guy trying to make a better living and taking some risks but always with a humorous note. By the end of the book I've changed my mind and thought he was as bad as he could be.
I think this is the beauty of the book, we know what it's all about and if at first everything looks innocent or simple enough, we realize page after page that the more he aspires for, the more corrupt and rotten he gets. The story is a bit like a scale and the more we read, the more serious George's aim gets and the more intense his actions until the end, where he does something we can't help but be repulsed by. The intensity gets bigger and stronger after each page.
There are several characters that play a certain role as antagonists and George uses them all, friends or not. Sometimes he gets out of tricky situations by simple luck but sometimes he attempts things just to see if he can and then he dismisses it like it wasn't never his fault, he plays a lot with other feelings, specially the women he seduces, uses and puts aside.
I like the writing style because it was fluid and not heavy like some classics where the author's need to insert as many characteristics from the time make the book more tiring to read. This one was more focused on the story with some splashes of history themed scenes in there, all balanced enough to feel good to read about.
I really liked and I was amazed at the way the author managed to create and develop such a character that seemed to act so innocently, so effortlessly towards an aim that he looked less and less at moral obligations to get what he wanted and to reach a final behavior so despicable as possible.
There are people like that in world, that seem clueless but are acute minds and don't care about rules, that with luck and corruption get what they want. In this the author maintained his actuality, making this book a classic exactly for that, in my opinion.
I recommend this classic to everyone because it's not hard to read and does create an environment with a crescent intensity in the plot that makes the reader change their feelings about the main character in a subtle but unstoppable way.