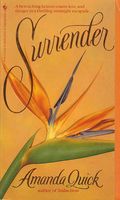 At four and twenty Victoria Huntington thought herself quite adept at fending off fortune hunters...until she came under siege from Lucas Colebrook, the darkly disturbing new Earl of Stonevale. Amidst the brightly plumed birds of the ton, Lucas was a hawk. And when he held out the lure of moonlit rides and wild, reckless midnight escapades, Victoria found herself powerless to resist.
But becoming Stonevale's companion in adventure was a far more dangerous undertaking than Victoria could ever imagine. For the attractive earl would use her every weakness to woo her, to win her, and ultimately to wed her. And soon the amber-eyed lady would find herself ensconced in a crumbling mansion deep in the English countryside...where the real reason for her hasty marriage becomes all to apparent...and where the ghosts of her dark-stained past are waiting to rise up in a terrifying plot that will threaten her life, her honor, and the only man she could ever love.
Comment:
Another book by this author. This time it's the story of Lucas and Victoria, two strong willed characters that want thing their way and don't accept compromise easily, although things run out of their control.
Lucas was wounded in the war but came back because he became the heir to his family's title. The problem is there's no family so he must marry a wealthy heiress and asks for the help of Jessica Atherton, a former love who declined his offer once exactly because her family wasn't rich either and she married for duty, playing the role of martyr. Still, feelings for Lucas remain and she tells him which ladies are the most suited ones. Among them is Victoria Huntington, she's 24 already and planning to be a spinster.
Victoria has declined marriage proposals and keeps saying that because she doesn't want to follow her mother's steps, as she was miserable in her marriage to Victoria's stepfather. At the same time she feels how unfair it is foe unmarried ladies to not be able to do what they want because of conventions. She dreams of adventure and finds in Lucas a willing (most times) partner. They get themselves into the most unusual situations and get to know each other pretty well. One day they are caught by Victoria's aunt and it's done, they have to marry.
I liked how the story felt. Things were done step by step and although one can say it was predictable how things would end up, I still enjoyed the things that were happening until the end. I have to confess it isn't my favorite story by the author, something about the characters, but it was a good story nevertheless.
Lucas was a very compelling character because we saw from the beginning his reasons were reasonable and he did care for Victoria, much more than she thought. Victoria on the other hand didn't behave like ladies should at the time and although this never bothered me in this author's novels, it did a bit in this one. I liked how she was independent and had a mind of her own but she wasn't very considerate of her role in society and it was like she didn't care at times, even though she claimed she did, more for her aunt's sake. I liked her but I didn't think her personality was the best, thus making her one of my least favorite heroines in this author's work.
I think the best thing in this story was how Lucas understood his feelings for Victoria were much more important than other things but he still kept his mind on curse and knew he couldn't just put aside his responsibility. Victoria was more careless in this aspect and that also bothered me although she redeemed herself later. Still, always talking about money and how it was hers and how she wanted to do things her own way...it was fresh and innovative but not very suited for the time of the story. I think it could have been done differently.
In the end it was good story, but definitively away from the best ones.