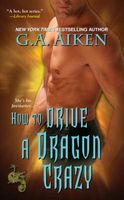 Some things never go away, like vile enemies, bad ale, and annoying kin. But I thought I was finished with the one dragon I'd have done anything for: Éibhear the Blue, a big, gorgeous, blue-haired beast who thinks the world belongs to him. The world and, apparently, me.
So if Éibhear wants to play the caring hero and travel into the most forsaken of Gods forsaken lands to protect the one woman who doesn't need it -- namely me -- I'll let him. Because while I'm trying to fulfill a ridiculous quest for a pushy god, I'm going to draw this overconfident warlord much too close, rekindle his fires, and enjoy every minute of his delicious defeat...
Comment:
Another one of the series I keep updated. The moment a book by this author comes out, there I am getting it and reading it. Funny, but I've read books she writes with her other name (her real one apparently) and I didn't like them that much, they were chick lit in paranormal, not a paranormal romance for me. But these books about dragons are romances and funny and the stories keep me addicted to them.
This is the story of Izzy and Éibhear. They've know each other since book #2, when Izzy's mother and Éibhear's brother got together. So they're like uncle and niece...not. There's not really a blood connection between them so the attraction grew but Éibhear has always felt guilty to have not so much innocent thoughts about Izzy. In a previous book, because of a jealous reaction, he has said something about her and she got mad with him, but she never put her feelings for him aside.
In this book, 10 years separate the last time they were together. Now, Éibhear has finally come to terms he really likes Izzy and goes after hr. After this, their relationship changes and at the same time they have to deal with the politics in their world and what is happening to their family.
I absolutely love, adore, I'm crazy over these books! The stories are always funny and interesting to watch. There's a certain sense of family comedy and I eagerly expect each book to know what else is going to happen. I think the author has done a great job in making these books look lighter in terms of content but they are full of family ties, politics, war strategies and brotherly affection. I love to keep seeing beloved characters and what new adventures they get themselves into.
The main couple..I wanted their story since it became obvious they were meant to be together, and I was quite expectant to see how the author would deal with and I was surprised to see how easily it all was. I guess if i could change something is how they accepted the evolution in their romance, I thought it was treated too lightly and I think it would have suited them a little bit more of seriousness, considering how much time it took them to acknowledge it and to live it.
There's many sub plots around, and we keep seeing how the younger cousins are getting by. in this book we seem preparing for their lives and now I can't barely wait for anew book where I can know what is happening to them.
Several other characters make an appearance and it's always a pleasure to see them to.
I liked this book a lot and recommend it to anyone who enjoys paranormal, comedy and dragons. Loved it!
I really think the author is doing her best in this series. She writes great stories, very adventurous and with a cast of characters that grows on you. I hope she keeps writing this for a long, long time.