As a werewolf and an enforcer for the Committee for Supernatural Behavioral Enforcement, Mick Matranga has seen his share of lowlifes but Kevin Sutter, pack alpha, is one of the lowest. He has forcibly turned and taken prisoner a young human. Mick has been assigned to affect a rescue and bring Sutter to justice.
Dispatching the bad guy turns out to be the easy part of his assignment. Sutter's prisoner, Rio Hardin, turns out to be a smart-mouthed, sassy brat with the face of an angel who takes Mick's heart by storm. He's also a runaway turned hustler who has suffered numerous abuses in the course of his tumultuous life.
Bound by his code of honor and determined that Rio be protected at all costs, Mick makes it his personal duty to see to it that no one hurts Rio again. If that includes ignoring the instinctual knowledge that Rio is his mate and Rio's own desire to be with him, so be it.
There's only one flaw in his plan. Rio is about to go through his first shift, a very painful process which can only be made tolerable by applying a certain amount of distraction--sexual distraction. Mick has two choices. He can leave Rio in the hands of his very capable brother or he can give in to the mutual heat and need between them and indoctrinate his young charge into the ways of the werewolf.
* * *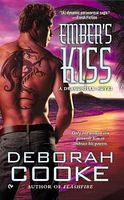 For centuries, the shape-shifting dragon warriors known as the Pyr have hidden themselves from mankind, defending the earth's treasures in secrecy. But as the final reckoning with the Slayers -- who are determined to eradicate both humans and the Pyr who protect them -- heats up, even the most ancient secrets will be revealed.…
Brandon Merrick is determined to banish his shifter nature forever. The charismatic tattooed surfer is on the cusp of the ultimate challenge -- to prove himself on the whitecaps of Hawaii and secure his future as a pro surfer. But his dragon isn't prepared to be tamed so easily....
One look at marine biologist Liz Barrett ignites the spark of a firestorm: Liz is his destined mate and his chance for happiness. While Brandon sees their first night together as just the beginning, his dragon seizes the upper hand. Awakening in the company of a raging dragon challenges Liz's ability to believe her own eyes. Can Brandon accept his inner beast in time to make it work with Liz?
Neither one realizes Brandon is caught in an ancient Slayer's scheme to enslave him. When the deadly plot ignites, the very island will be at risk...and Brandon and his mate could be the ultimate sacrifice.
Comment: I've read these two books last month.
Altered Heart is a story about shape shifters, which I love.Mick is an enforcer in the paranormal world and one day he rescues Rio, a young ma turned werewolf against his will. After that they sort of bond and Rio only feels safe with Mick. With time Mick starts to understand Rio is to mean everything to him because they are mates. This was a good story, it focused some interesting subjects in this type of books, like the reluctant transformation, the fighting of what it meant to be, the fight against violence and the belief in an HEA. I liked how the main characters were insecure at first, but with time and real emotion, they become more. I think it could have used a bit more of sexual tension, but overall, a sweet story to read.
Ember's Kiss
is the story of Brandon and Liz. Another installment in the dragon world crated by mrs Cooke. I liked this story because it taught a good lesson, we should always be humble enough to be able to ask for help. It's not easy, it depends on why and which kind of help, but I feel it's worth reading just to see how it happens in the book. There are interesting developments in the things going on and with each book we learn a bit more about dragons and their families and how important they are and how the best thing is to be happy. I'm always eager to read books in this world and this wasn't a disappointment. Not my favorite, but a very good one.