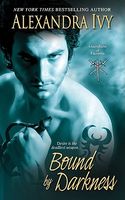 The Sylvermyst have a reputation as sinister cousins to the fey, and none are more mysterious than Ariyal and his tribe. To save his people from banishment, he sold himself to the evil Morgana. Finally free, he faces a new challenge: Jaelyn, an elite vampire warrior sent to capture him. By rights, he should kill her on sight. Yet he cannot bring himself to hurt her - or to resist her...
Jaelyn is stunningly beautiful, utterly lethal - and always alone. Until Ariyal. From their first encounter, she knows that what's between them is more dangerous than simple lust. And as they unite to thwart a terrifying prophecy that will mean the end of his clan and of the world they know, she will risk everything to fulfil her destiny by his side...
Comment:
This is one of the series I'm trying to keep updated, so this month I've read another book part of the Guardians of Eternity.
This is the story of the sylvermist Ariyal, he's fae and was a slave to Morgana la Fey for a long time because he thought it was the best way to save his people as he was their prince. After Morgana died he and his comrades were freed and now Ariyal is determined to protect everyone from the Dark Master even if he has to kill the child rumored to be the incarnation of the Dark Master.
Of course, opposite him it Jaelyn, a vampire hunter with the mission to capture him. However, they didn't see coming the attraction between them or the need to know more about the other.
Considering the clues in the previous books, it was obvious these two characters would end up together. I was quite eager to see them fall in love especially because they seemed to fight each other all times and I imagined their relationship to be a challenge and a slow surrender. Err...not quite. They did seem to be at odds most of the time even when feeling the attraction but I didn't like that much the way they admitted their feelings. I wanted a bit more emotion, more flavor, after all they were fighting and trying to kill the other not a few days before, the whole think seemed rather rushed and unemotional.
The main plot is developing nicely. Many things happen and I think the author has been clever in managing all the threads in order to create a net of issues to solve without the reader feeling lost or thinking things don't make sense. In every book there's something happening and we see a bit of the previous links showing up, so we always know what has been happening in the following book. Although each one can be read as a stand alone, the plot has a sequence done well enough to do that and loose enough to make the reader have an idea of what is going on.
I like when secondary characters are still part of a series even if their story is done or to happen. It makes the story feel more alive, because no one is an island, right?
I don't think this is the best in the series. But I do hope the next one will be, because despite the good plot sequences, the romance sometimes leaves a lot to be desired.