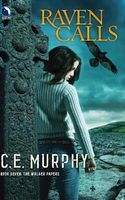 Something wicked this way comes...
Suddenly, being bitten by a werewolf is the least of Joanne Walker's problems.
Her personal life in turmoil, her job as a cop over, she's been called to Ireland by the magic within her. And though Joanne's skills have grown by leaps and bounds, Ireland's magic is old and very powerful....
In fact, this is a case of unfinished business. Because the woman Joanne has come to Ireland to rescue is the woman who sacrificed everything for Joanne -- the woman who died a year ago. Now, through a slip in time, she's in thrall to a dark power and Joanne must battle darkness, time and the gods themselves to save her.
Comment:
This is the seventh book in the Walker Papers series by this author. It's a urban fantasy series full of adventure and magic.
In this book, Joanne flew to Ireland to understand better her maternal heritage and to try to help her mother's spirit before evil claims it. Joanne also tries to find a way to solve her little werewolf problem which bothers her a lot.
I've been a fan of this series since book #1, because in each book Joanne learns something else about her shamanic powers and her way of seeing her life, of dealing with herself. In this book she returns to Ireland to look for her mother's spirit before The Master, the evil influence that has been around in previous books, claims it. She wants to help her mother and try to come to terms to the way of their relationship in the past was. This book is all about forgiveness and learning to cope with things you can't change but can accept before moving on.
Joanne has the help of a family member, a kind of goddess, a real goddess and Gary, who comes to Ireland to help. By having all this help, she's also has the responsibility to see them well by the end of things. Joanne is a very responsible person even if in the past she didn't see herself like that. I liked how her understanding of things was slow for us to enjoy the changing in her temperament, in her personality. The author obviously takes her time in making her main character change, which makes it even more believable.
We also see many characters from other books and even references to others we know, so I think despite this book can be read as a stand alone, it's still preferable to read them all, because many little things have a deeper meaning that someone new to the series won't pick up.
Concerning her romance with Morrison, which we finally saw a bit more of in the previous book, we keep seeing her thoughts about it and at some point she says she can't wait to get him on a bed. Yay! I sure hope things in this department won't take long because sexual tension has been simmering, they have said they love the other one and I think it's about time for the next step. Plus I'm a sucker for HEA's and these two deserve one.
By the end of this book I was already eager to get my hands on the next one. I already pre-ordered it and everything.
I keep thinking this is one of the most solid and well structured series out there, with a great narrative and strong character development. I recommend it to everyone.