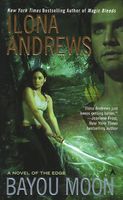 The Edge lies between worlds, on the border between the Broken, where people shop at Wal-Mart and magic is a fairy tale -- and the Weird, where blueblood aristocrats rule, changelings roam, and the strength of your magic can change your destiny...
Cerise Mar and her unruly clan are cash poor but land rich, claiming a large swathe of the Mire, the Edge swamplands between the state of Louisiana and the Weird. When her parents vanish, her clan's long-time rivals are suspect number one.
But all is not as it seems. Two nations of the Weird are waging a cold war fought by feint and espionage, and their conflict is about to spill over into the Edge -- and Cerise's life. William, a changeling soldier who left behind the politics of the Weird, has been forced back into service to track down a rival nation's spymaster.
When William's and Cerise's missions lead them to cross paths, sparks fly -- but they'll have to work together if they want to succeed... and survive.
Comment:
Finally I was able to pick this book. I wanted to get to it for ages but only now I could manage to find the right time for it. This was the first book of January, thus the year.
This is the story of William, he's a shape shifter we've known since the first book. He's kind of a loner because he feels he doesn't deserve anyone although he wants a real family.
Then there's Cherise, she's part of a big, crazy family and her parents are missing. She embarks in a trip to find a way to look for them and to allow her family to do it by law but in the way she finds not only William but also a group of strange enemies and reality is...shocking.
I loved the first book in this series. I thought it was as amazing - although different - as Kate Daniels' series. I keep saying that, to me, this couple writes some of the best books out there, not only because their stories are great but mostly because their writing style is one of my favorites ever. I know when I start a book by them that everything comes together in a way that's special, perfect. All the information is given, is interesting and they write like there's nothing more true or more sweet or more sad or more horrific or more perfect about whatever. I can't explain it well, but I love to read a book written by them, and I think I would always, even if the theme didn't interest me. This makes me trust them always and for this alone I'd read the book.
But the book is also sweet and full of lovely scenes and special moments between the main couple. I loved the romance, I loved how we got to know their personalities and to understand how well suited they were for each other.
I loved the secondary characters too it's so great to see beloved characters and to know others we just know will be special too. Can't wait for the next books.
The bad guys were pretty weird and made me wrinkle my nose because of how they were. The authors certainly have a vivid imagination and I can't forget about Cerise's mother fate in this book...how...morbid. But still it was melancholic and perfectly suited.
The storyline is full of little details that make the book more believable - for that world, of course - and I enjoyed getting to see them because it allowed me to savor the story much more. So many authors can't give their details the perfect amount of disclosure and mystery I think are needed to keep the reader interested. I think it's very well done here.
I can«t wait to read more about the world in the Edge.