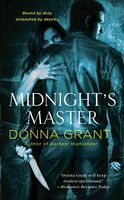 Gwynn Austin has no idea why her father has disappeared on a mysterious trip to Scotland. When she goes on a desperate mission to search for him she finds more than she bargains for in a ruggedly handsome, wickedly exciting Highlander who exudes danger and mystery. And when she discovers her own link to Scotland, she'll have to trust her heart to help lead her...
Propelled through time by powerful Druid Magic, Logan Hamilton uses his immortality and powers of the god inside him to help prevent the awakening of an ancient evil in the modern world. He never expects to find help in the form of a beautiful, alluring, and all too tempting woman whose passion and strength matches his own. Together, Logan and Gywnn must fight for their love -- before a demon from the past destroys them both…
Comment:
This was another book given to me for my birthday. A friend of mine knows how I like paranormal romance and it's almost a game between us, when the time approaches for our birthdays (we both celebrate the joyous day ah ah in September, hers is 4 days before mine) we do some research and find a book to offer. It's fun, just to browse books everywhere to find something suitable..this year with goodreads I'm sure my "hunting" will be funnier.
So, she got me this book and she's like me, we're very keen on picking the first book of a series if it's the case, because we like to read things in order.
This is the first book in a new series by the author, someone whose website I've checked and she has written lots of books, wow.
The story is about Logan, he's a warrior from Scotland and wants to retrieve an artifact a bad druid also wants. Somehow he and other warriors are carried to the present and must try to find that object.
Gwynn is looking for her father. Their relationship has never been good but she can't find the conscience to leave him so goes to Scotland to find him.
Gwynn and Logan join forces because it becomes clear she's a druid who isn't aware of her powers and he seems to know a lot about what's it like to be a druid as many of his friends married one.
The book was interesting at some points. It provided a lot of interesting subjects and the legends mentioned, the parts about History talking were small enough not to seem too informative but the right amount to make it all look pertinent to the story.
Still, I can't say I loved it. It was a good story but not something that amazing. My biggest problem was the writing style but the clichés used weren't that great either, although with another author they might work.
The biggest cliché was the romance itself. It was rather obvious Logan and Gwynn would be mates and that she would be a druid, that was to be expected after reading the first pages. What I could do without was that same old thing about the guy thinking he wouldn't be good for her because of his dark past. I get that everyone feels low sometimes and the lack of confidence is quite common and I wouldn't want my heroes to be conceited all the time, but it gets boring to keep seeing heroes who know their fighting worth but guilty all the time over something that wasn't that despicable...oh well everything is relative but in this book it bored me a lot.
However, many of my issues could be forgotten if the writing style could be captivating but to me it wasn't. The writing seemed so superficial like she had the story she wrote it but even with metaphors and descriptions it sounded to pre arranged to be entertaining. I really thought I was reading a story without fluidity because it seemed that everything had a place and the author limited herself to put it there..I don't it's a strange feeling.
Overall, it wasn't that bad really, but it had many not so good points for me. Besides, it's said to be the first of a series and yes it can be read and understood well, but it has tons of references to the previous series as this one is a spin off of another and despite the stand alone status it's certainly much better to have all the knowledge because some things were understood but still there was a lot I think with having read the other books would mean something different, it would be more explained.
Anyway, it was a good read but with so many things against it for me I can't say it was one of the best things I've read...