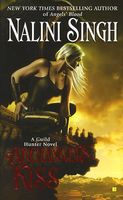 Vampire hunter Elena Deveraux wakes from a year-long coma to find herself changed -- an angel with wings the colors of midnight and dawn -- but her fragile body needs time to heal before she can take flight. Her lover, the stunningly dangerous archangel Raphael, is used to being in control -- especially when it comes to the woman he considers his own. But Elena has never done well with authority...
They've barely begun to understand each other when Raphael receives an invitation to a ball from the archangel Lijuan. To refuse would be a sign of fatal weakness, so Raphael must ready Elena for the flight to Beijing -- and to the nightmare that awaits them there. Ancient and without conscience, Lijuan holds a power that lies with the dead. And she has organized the most perfect and most vicious of welcomes for Elena...
Comment: This is the second story in the Guild Hunter series by Nalini Singh. After not being very impressed by the first book, I didn't have many expectations about this one and to be honest I only decided to read it so I could get it over with. I must say we don't always have the results we look for, because I liked this one quite a lot.
In this second book, Elena wakes up after a year in a coma. Raphael changed her into an angel, the first ever, and now she has to learn to live with several new particularities, most of which her new wings. But while she's learning to cope, someone else is using Elena to distract the archangels from a power struggle that might have unpredictable results…
I don't have many good memories of the first book. I mean, the author's writing is recognizable and I more than love her other series but Angel's Blood didn't captivate me that much, I thought there was too many alpha behavior going on. In this second book I felt this wasn't the case, and there was more air time for feelings and reasons behind actions.
In this book Elena has to learn to deal with the changes in her life. It's more physical, as she has to fight while learning to use her wings too, but there's emotional differences as well. She still firmly believes she's part of the Guild and she is constantly thinking about the day she has to let the ones she loves go, because they will be old and dying. This is an interesting topic but I hope the author doesn't get to it all the time because it can be consuming. She also has having nightmares, more often each day, about the tragedy that destroyed her family and she fears it was all because of her. She had some closure about it in the book so I expect this subject to be over.
Raphael also showed some more human emotions although we still got to see other signs he's didn't change everything. I think, in a way, this is reassuring, because we got a character with certain traits and it would feel wrong to change him too much.
The both of them are dealing with the new challenges in their lives but they are in love and it's beautiful.
We get to see many secondary characters, we see Elena interact with more warriors in the Seven, Raphael's sort of personal guards, and we get to see a little detail here and there about them which is hopeful, I hope all of them get at least a novella size story. I know two of them got books, this is hopeful too.
In the end, the action was interesting, not too slow paced to be boring and not that fast to be redundant. I liked this one, it covered a whole new set o emotions. Besides, the world is set, so there wasn't that feeling of trying to understand everything all the time.

I hope the next one is in the same lines as this one, meaning, more than interesting.