Six years ago, eighteen-year-old Lady Isabella Scranton scandalized London by eloping with the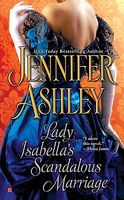 notorious artist Lord Mac Mackenzie on the eve of her debut ball. After three turbulent years of marriage, she scandalized London once again -- this time by leaving him.
Now Mac has resurfaced, every bit as charismatic, and with one goal: to seduce Isabella back into his life and his bed, even if it means acting like a real gentleman. But when Isabella rises to the challenge of posing nude for Mac's erotic paintings, her pent-up hunger for the decadent rake is exposed as well, and she finds herself unable to resist the smooth strokes of an artist at work.
But someone's been watching them -- dangerously close. This ingenious forger with designs on Mac's paintings also sets his sights on Isabella herself. Deciding to become Isabella's protector, Mac vows to never leave her side, whether his independent and proud lady likes it or not.
Comment:
I was very impressed with the first book in the historical series "the Mackenzies" by ms Ashley, that I decided to get the rest of the series as well. This one is the second one and it's the story about Mac and Isabella, a separated couple we've met in the first book.
Isabella left Mac because she couldn't take it anymore. His behavior and moody attitudes plus the drinking we turning him into someone she didn't know. Although a difficult decision she went away and fro years they've lived apart. Now that Mac's younger brother is recently married, they got close again and Isabella sees how mac has changed. Still, Mac wants to prove to his wife he is a different man and that he has changed. While trying to get a reconciliation, someone else gets in their way, threatening their lives. But love is still between them and it will help them saving themselves.
I was very pleased with this book. In fact, I liked it more than The Madness of Lord Ian Mackenzie, which is the one most people talk about.
I think this story was quite well done. Usually I don't like much the books where the couple is separated because at some point they will have to deal with what turned them apart and in a way, they re-meet each other and in all the books I've read with this kind of plot I find some lacking in the romance, something that has to happen in stories where the couple is dealing with each other for the first time, with the feelings for the first time. In books like this, usually the couple ends up talking about or remembering what it used to be like and I don't find that as romantic as a couple just taking the first steps towards a relationship. It's just a personal preference, that's all.
But this book was different. Somehow, the couple in this story is separated but the feelings between them didn't disappear and they didn't spend the whole book trying to deal with it. It was a solid fact they loved each other and wanted to be together. I think the author has done a great job portraying that love and pushing them together. I loved to see how mac wanted to change and he did. In this book he is no longer trying He has changed for real and is after his wife again. I think this helped making the romance feel more solid because if he was one of those heroes always doubting the veracity of his feelings or the right thing to do, then it would be a very boring story. But it's vibrant and heartfelt and it has many wonderful moments. I even think the author didn't push the sexual side of their relationship as much as in the first book. Perhaps because it was a stated fact, but I found their encounters more romantic and special than passionate. I mean, they were passionate too, but the way I saw things made me focus more on the romance.
This story felt alive. things happened and it was very easy to follow the story and it was almost addictive to turn the pages, I always felt reluctant to put it down for whatever reason. This is a winner for me.
I liked how we got see the Mackenzie family interact so much, it's so good to see the good side of people and even when something bad is about to come, they still stand together, it's great. I can't wait to read the next story.