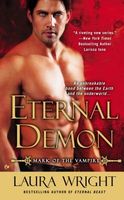 When Erion's son is kidnapped by the evil vampire Cruen, Erion vows to stop at nothing to find his hideaway -- including intercepting the traveling party of Cruen's beautiful bride-to-be. But instead of a vulnerable caravan, Erion is met by a feral band of female demons that includes Hellen, the bride -- a creature of dark magic and darker passion.
Though the safety of his son is foremost, Erion can't deny his unexpected connection to Hellen -- inflaming a manic desire as primal as it is irresistible. As their bond intensifies, they move toward an inevitable and terrifying battle. With time running out, Erion realizes he must not only find and rescue his son but protect Hellen from Cruen and the underworld forces waiting to destroy her for her betrayal.
Comment:

This is the latest installment in the Mark of the Vampire series. This time it's Erion's story, he's the mutore twin of Nicholas, the hero of book #2, which means he wasn't recognized at birth and was raised by the villain of the series. In previous books he and others like him found the truth and now he and his brothers are more of a family.
This story follows the things happening in previous books, where Erion found out he had a son when the villain always convinced him and the ones like him they couldn't father children, so he's ecstatic even if plans never to tell the truth to the boy. However, he has been kidnapped and Erion figures the best way to get him back is to exchange him with something the villain wants, in this case his new bride.
Hellen is a demon from Hell, literally, and she is sacrificing herself because of her sisters. When she goes to the surface to meet Cruen, she's is kidnapped and arrested in Erion's house. She thinks she will be released soon but during the time she spends with Erion something happens and they start to develop feelings for each other.
I enjoyed this story. The storyline is continuous, which means we follow the same things from book to book, even if the main couple differs. But the author managed to have a good balance between the continuity of the story and the detachment elements of a new romance with each book. Still, one of the best things is to see recurrent characters showing up and still being part of things after their stories have been told.
The two main characters don't seem to have much in common at first, but throughout the story we get to find out more not only about their personalities but also about the nature of their origins and in the end they do have more in common than what they thought. This is paranormal so in a way usual dealing between the couple has to be understood by different rules. But what matters is how consistent their relationship gets and in the end I think the author has successfully shown how dedicated they seem to be towards one another.
The story offers quite the news about other characters and what they are doing and even about things we wouldn't be expecting. Once again, this book ended with one or two revelations I wasn't picturing, so now I am again very eager to know what will happen.
Erion and Hellen have found common things to them and tried to give the other what they thought was best but they overcame that need to think for the other and ended up admitting the best way to help the other is to make each other as happy as possible. They went after their HEA and I was quite happy with the way it was gotten, although I still have some questions about the way things will work for them. I guess I'll have to wait and see. But I'm happy with the way things are going. This is an imaginary world, so like I said different rules, but I was still entertained and satisfied with how the author has presented the story.