From a magnificent ballroom ablaze with lights to an imposing country house steeped in shadows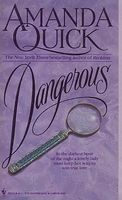 comes a breathtaking tale of an impetuous miss - and a passion that leads to peril...
At five and twenty, Prudence Merryweather knew very well the risks a woman took by visiting a gentleman in the dead of night. But bearding the notorious Earl of Angelstone in his den was the only way to stop him from engaging her hot-headed brother in a duel. And that was why she found herself ushered into Sebastian's forbidding presence at three in the morning - and thoroughly kissed before dawn.
She was a country-bred innocent and an intriguing experience for a man who dwelt more in the shadows than in sunshine. Yet as her boldness drew Prue into one dangerous episode after another, Sebastain found himself torn between a raging hunger to possess her and a driving need to protect her. And the reckless beauty would soon need all the protection she could get....
Comment: Another book by Amanda Quick. This story was very good, I liked it more than some of the others. The romance was interesting enough, but it was the mystery that made me read fast. Both main characters have a huge interest in doing research and they could be two journalists of the old days because they tend to investigate things, in particular the case of a young lady who died at an important man's house. Now he claims her ghost has come to haunt him but the main couple discovers what really happened. I'm quite surprised about the way the story evolved, it seemed this story had a more thoughtful plot than some of the other books. The romance has its little issues but overall, it was good. So far, one of the best by her.
* * *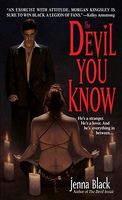 Some people worship them. Some people fear them. And some people--like Morgan Kingsley--go up against them toe-to-toe, flesh to flesh, and power against power. An exorcist by trade, Morgan is one of the few humans with an aura stronger than her possessor, even though her demon can tease her body senseless. She's also a woman who has just discovered a shocking truth: everything she once believed about her past, her identity, may have been a lie.
With a family secret exploding around her and a full-scale demon war igniting, Morgan is a key player in an unsettled world. Then a rogue sociopathic demon enters her life with a bang. His name is The Hunter. And since she is the prey, Morgan has only one choice: to hunt The Hunter down--no matter what heartbreaking truths she uncovers along the way....
Comment: This is the second book in the Morgan Kingsley series. I liked the first one quite a lot and this one wasn't behind in interest. Morgan has her brother back and she also learns some world changing truths about her origins and this will set her up in a path she didn't want but can't help going into. She also talks to her ex and they sort their things...kind of. She has to deal with her demon and his fight which she didn't want to get into more than she already was but once again, she has no other way of solving things. I lied the story a lot, like I said, it moves along wonderfully, I love the characters, the personalities, the writing, the plot...it's almost perfect.