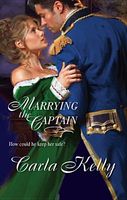 Ever since her father tried to sell her as a mistress to the highest bidder, Eleanor Massie has chosen to live in poverty. Her world changes overnight when Captain Oliver Worthy shows up at her struggling inn. Despite herself, Nana is drawn to her handsome guest....
Oliver planned to stay in Plymouth only long enough to report back to Lord Ratliffe--about Nana. But he soon senses that Lord Ratliffe is up to something, and Oliver will do anything to keep this courageous, beautiful woman safe--even marry her!
Comment: I've had this bo to read for a long time, ever since I saw someone's opinion in one of the message boards I visit. I thought the idea of a heroine who could be rich but chose to be poor was highly addictive for me, as I love heroines who struggle but succeed in the end.
Anyway, I looked for it and got it. Now, several months later, I finally put in the line to be read and I can say it was definitely worth the wait.
This story begins when Oliver Worthy, a captain of the navy, is asked by a lord to check on his illegitimate daughter but he is not given many details. When he arrives at the inn where she is living with her grandmother he starts to fall in love with her the more he talks to her. Everything about her calls to him even if he tries to tell himself he won't marry ever.
Nana Massie ran from a humiliating destiny even if it means to live in poverty. She helps her grandmother the best she can but after meeting Oliver she can't be the same anymore. While he is recuperating from a cold they get to know each other and start a new experience for both of them...
I loved this book a lot. I wasn't expecting to enjoy it as much but I was surprised by how eager I was to know what would happen.
The story is very engrossing and addictive. I really liked the the subject of Nana's poverty and her struggles to get by. She and her grandmother don't have much and they depend on the help the other inn owners provide them, whether with food or something else. This heroine is used to be humble and she doesn't care about things superfluous. I liked her immensely.
Oliver is also a very interesting character. He goes on a mission without knowing all the details but he learns to see what is in front of his eyes. I also liked how his personality developed, how he slowly went from being distant from the idea of marrying to realizing it's better to have happiness next to him, because fate is unpredictable and time is wasting.
Their relationship happened slowly, they took time to know each other and the romance was sweet and believable. I say this because so many historical books present steamy scenes and while it can be fun, I found this more subdued style also very likable. We could see them fall in love a bit more each time and it was romantic as it was.
The plot offered some interesting ideas, from the reason why Nana went to live as poorly as she was, how the navy wifes saw their husbands work, how the navy worked, and the last main discovery in the story, which is surely the starting point for the next stories in the trilogy.
This is my first read by the author. I've read reviews about things by her and it's pretty unanimous she's a good writer and has a strong voice, very simple but powerful. I agree, I thought her work seems very simple, without much fuss, but she gets to the point and provides a strong plot. I liked her style and I can't wait to read more by her.
All in all, this was a fantastic read for me. For a while there at the end I though things would be stupid, but I was very glad with the way it ended. Now I really want to read more and I'm eager to see if her style keeps up.