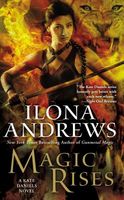 Atlanta is a city plagued by magical problems. Kate Daniels will fight to solve them--no matter the cost.
Mercenary Kate Daniels and her mate, Curran, the Beast Lord, are struggling to solve a heartbreaking crisis. Unable to control their beasts, many of the Pack's shapeshifting children fail to survive to adulthood. While there is a medicine that can help, the secret to its making is closely guarded by the European packs, and there's little available in Atlanta.
Kate can't bear to watch innocents suffer, but the solution she and Curran have found threatens to be even more painful. The European shapeshifters who once outmaneuvered the Beast Lord have asked him to arbitrate a dispute--and they'll pay him in medicine. With the young people's survival and the Pack's future at stake, Kate and Curran know they must accept the offer--but they have little doubt that they're heading straight into a trap...
Comment: I'm a big fan of this series, so it was more than natural that, as soon as the book arrived, it had to be my next read, no matter my plans. Since I found out about this "world", I just can't seem to put down a book by these authors. Their ind of writing is one of most appealing to me.
This time, Curran and Kate have gone overseas, in an attempt to gain more panacea, a medicine that would help loupism, something shapeshifters battle and not always win, in particular in children and thinking how awful is to see a child suffer like that, and their parents, the alpha couple embarks on a mission with a group and they just want to survive and bring the panacea back with them.
As always I loved this book. I don't think it had the same sort of anticipation and beauty as Magic Bleeds, my favorite of the series so far, but it provided a strong and emotional story to follow.
Kate and Curran are a united front. They both know the other is with them for keeps and no matter what, neither would leave the other. In this new adventure, their relationship is put to the test because someone from Curran's past shows up in the mission they see themselves in, and ate feels the jealousy and the verbal attacks her rival makes. Trying to keep the peace among the group, Kate holds on and hopes it's all part of a plan she doesn't know about, but she still feels a tiny doubt when Curran doesn't say anything about the whole thing.
The authors have shown with this plot line that a relationship is only as strong as the will and faith of the ones in it, and we see Kate and Curran talk about them, about what they want and sometimes it's better to discuss things than to believe things would work out for themselves. Once again, we see a believable take on a relationship not very supported but as true and balanced as their hearts.
As for the main story, it had its moments, it's strengths and weaknesses. I was sad over some things...I don't thin some things had to be like that, but since it happened it's done. I thin it was a clever plot but I always thought it was obvious some things wouldn't be as easy as that. It's obvious the authors have a plan and they want the reader to be a determined position to enjoy the story as it is. I, for one, can't wait for more. I'm eagerly waiting to see what happens next.
The characters play a wonderful part. I've always loved the characterization of everyone and even more how I really wanted to see them act and imagine their behaviors and so on. Another example of the author's talent. The secondary characters are vivid and s strong in this series as the protagonists and I also want to see what happens to them.
The plot was interesting, smart and despite not being my favorite of the series, I still think it's was ingenious and well done. I hope it stays like this forever, a solid, smart series.