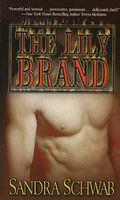 Troy Sacheverell, fifth Earl of Ravenhurst, was captured in France. Dragged from prison to an old French manor on the outskirts of civilization, he was purchased by a twisted widow. But more dangerous still was the young beauty who claimed him as hers.
Lillian wished to flee Camille, her stepmother, but on her nineteenth birthday, Lillian became Camille's heir. Her gift was a plaything: a man to end her naivete, a man perfect in all ways but his stolen freedom. Reluctantly Lillian did as she was told, marked that beautiful flesh and branded it with the flower of her name. As she did, she saw there was no place to run. No matter where she might go, she and this man were prisoners of passion, inextricably joined by... the lily brand.
Comment: I picked this book because I saw some comments about it in a message board. It was said to be rather dark but with a HEA that would make everything alright. After a while I got it and there it went to my TBR. This month I added to my monthly list and I was quite eager to try it and see if was as challenging as it was made to look like. Besides someone whose opinion I trust in historicals was also positive, so one more reason for me to be interested.
This is the story of the earl of Ravenhurst, Troy and his terrible experience after being captured in the war. Following that, he is bought by a black widow who lives near his French prison. She then shows him what to expect of his life and is gifted to the widow's stepdaughter.
Lillian just wants to escape the castle and her stepmother. She wants a simple life where men aren't treated like pets or animals. Having Troy as her responsibility isn't something she wants but neither can she deny for her stepmother is someone not to anger. After a final and decisive action, Lillian thins she is free of the past...but it comes for her again...
Well, this book is divided in several parts, all focused on a certain time of th main couple's lives. The first part is indeed disturbing because the black widow is like a slave owner who breaks men to her will and pleasure and set up a distorted "world" where her biggest aim is to prove she is superior to men, thus mentally braking them. This wasn't news in terms of knowledge but it's still shocking to read about. Lillian and Troy's experiences in this part are awful to see and I was glad when things turned in another direction.
Then starts a different setting, when Lillian is back with her maternal family in England. She wants to forget what happened but Troy returns and most of the action is how they deal with each other after those terrible happenings in France. I thought we'd see an obviously slow but expected path from darkness to redemption with love in th way. Well, things happen a bit more darkly than this, because the couple's scars are great and Troy has a huge difficulty to see Lillian differently. He thins she was just like the widow and his actions reflect his fear and prejudices. I understand his behavior because what happened to him isn't certainly easy to put aside. But he did treat Lillian horribly and takes too long to see his mistakes.
Lillian is a simple character, has her personality, but she just let things happen and doesn't seem to want to change. She lives for her experiences and has a certain martyr complex in there. Not that I don't like this, when well done, martyr personalities are more real than what we might see...
But here's the thing, both their personalities clashing makes a very slow romance and not that passionate. It's not even particularly sweet either, which could have helped with my empathy towards them all. I get this is the way things were meant, but I thought if the goal was to see how two people so branded by darkness could overcome their past and find happiness no matter what - the biggest answer to those who want to harm you - I think this wasn't done the best way. The happy part only happened in the very end, so this looked rushed and I wasn't totally convinced Troy changed his mind so suddenly.
I think a couple more pages here and there just making us see how they both were changing their minds about the other would have helped see how their feelings were getting different, how they were surviving a unspeakable experience and getting focused on romance. This was my biggest issue with the story because if this were different, than the idea we construct of their lives would feel different too.
Anyway, his was interesting to read, had a dark aura very impressive and that did build up the rest of the plot in a very obvious but psychologically interesting way.
The writing didn't seem bad and I'm curious to see other work by her, just to see if it's this book or all of her books have this sense of difference from the norm.
Grade: 6/10