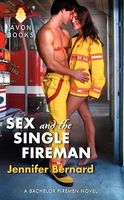 There's a hardnosed new training officer in town, and that's bad news for the Bachelor Firemen of San Gabriel . . .
But great news for firefighter Sabina Jones . . . maybe.
The toughest captain on the East Coast, single father Rick Roman has come thousands of miles to San Gabriel to put an end to the "Bachelor Firemen" media hype. But when a stunning woman he nearly hooked up with in Reno turns out to be a firefighter from his new station, Roman realizes it's going to be tough keeping the tabloids at bay.
But there's even more Sabina isn't telling him. Before dedicating herself to battling blazes, Sabina led a very different life, one that made her famous. The last thing she wants is to have her secret exposed. The papers, bloggers, and TV gossips will have a field day with that -- expecially when they sense the obvious sexual heat between Sabina and Chief Roman, who's torn between firing her . . . and falling in love with her!
Comment: It's time for another post for the TBR challenge. This month the theme is contemporary and I've picked a book I had here since last year because at the time the blurb seemed interesting. I wasn't aware this was actually the third in a series, but now that I've read it, I don't feel like going back. I might read the following ones one day, I was interested enough in the characters to do so.
This is the story of Sabina Jones, she liked her job as a firefighter and she loves he idea she's working to help others. Sabina has had a very different life before the anonymity of being just another firefighter and she wants to keep things that way.
Chief Roman comes from New York to help the fire house to deal with the excess media attention they're having lately all due to the amount of times the station has been on the news and not always for work purposes, the thing is, the firemen of Station 1 are well known to be bachelors and when one of them got married, they all got even more popular.
Sabina and Roman meet one day without knowing the identity of the other. They almost made love but Sabina lost her nerve, so it was very funny to see both their faces when Roman was introduced as her new boss the next day. From here on, their relationship changed, developed and their feelings too.
I was sold on this one the moment I saw the two protagonists didn't know the other would be a co worker and how that would stress their professional relationship. I was curious to see how that would happen. After a bump start with a misunderstanding, they got to know each other during a blind dinner let's call it, and the chemistry was obvious. But Sabina thought twice before sleeping with him despite her attraction (smart girl) and she never knew he would be her boss. That scene was funny, when they both saw each other after Sabina left without saying something and by having left only a note under the door. At first they struggled to keep things professional but it got more difficult the more time they spent together and even more so when even in their spare time they run into each other all the time, like in Roman's son baseball practice where Sabina had a "borrowed" sister too, and in the restaurant near their work. All the apparently random meetings only enhanced their attraction and a personal involvement was to be expected.
I liked the protagonists. Sabina was running fro the memories of a past where she couldn't be herself, where others expected something from her and now that she's living the life she wanted, the past is returning. This part of the story provided enough bases to justify Sabina's character and was an interesting opposition to her current life and way of thinking. I thin some situations were exaggerated and in a way I guess it was meant to offer a funnier side of things but I thought that it wasn't that special. I'm glad that it didn't went into stupidity level. The best thing in all the background was that it showed how committed and professional Sabina was about being a firefighter. I liked that she was proud of this side of herself.
Roman lost his wife in the 9/11 and moved to California so his son could join a baseball team and also to help with a famous fire house presenting a more formal identity after all the media apparatus of lately. Things aren't as easy because of several reasons and Roman actually gets to a point where he fears he's made a mistake. But his son's happiness and his growing feelings for Sabina tell him he should give life another chance which he does, even more so than we think at first. The end of the novel is quite the surprise for Roman's character.
My general feelings about this novel are pretty satisfying. The story was solid enough, had good bases and a good enough structure. It's meant to be funny, I did laugh at some scenes and was glad this wasn't meant to be a joke. I think it was serious enough on the right moments and still managed to offer a good image of how to deal with feelings too. The scene where Sabina tells Roman she's in love with him was very cute.
The secondary characters were interesting. The upcoming heroes seem interesting, I hope the settings can still function around the fire house, I think it's one of the things that could add a bit more seriousness to the plot, a bit more scenes within the fire house to present a more complex professional situation. My opinion, of course.
The story isn't perfect, but I enjoyed it and was happy enough with the way things were dealt with. As far as contemporaries go, this wasn't so bad. The characters had reactions believable enough and the chemistry between Sabina and Roman wasn't badly done. I also liked they didn't had sex right after seeing each other again at the fire house. Their relationship developed slowly, giving them time to know each other better until it was obvious they were already feeling something more than lust by the time intimacy happened. The situations outside themselves were done well enough to add some veracity to the demands of life.
All in all, an enjoyable story, good and strong elements, some lack of that extra thing that could put this in perfection level, but certainly a good story nevertheless. Recommended to contemporary fans.
Grade: 8/10