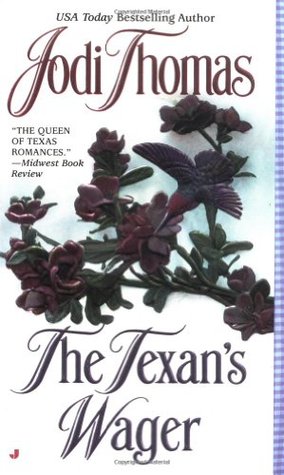 Thrown off a wagon train with two other women and trying to avoid jail for a murder they committed, Bailee Moore agrees to enter a "wife lottery"--a ploy concocted by the Cedar Point sheriff to secure wives for the men in the small Texas town.
For the sensible Bailee, however, marrying Carter McKoy is like exchanging one life sentence for another--especially since her new husband hasn't even seen fit to utter a single word in her presence. But still, she can't help thinking that something about this strong, silent farmer could be the key to leaving her troubled past behind...and making a worthy wager with her heart.
Comment: This book was a gift I won in Christine's blog. I got it last year but, as usual, it's hard to read books right the moment they arrive, with some exceptions, of course. Anyway, this one has been in the pile until now but I'm very glad to have chosen it because it was a good read.
This is the story of Bailee and two friends she met on a train before they got expelled because one of them was sick and another was accused of being a witch. After a random meeting with a man who tried to rob them of the only transportation they were left with, the girls defend themselves and the man doesn't move and the girls think they killed him. After confessing to the sheriff in the nearest town, the girls accept to be part of a wife lottery where their future husbands pay their fine from jail and take responsibility for them. Bailee is the last woman to pick a name from the hat where all the possible husband's put a paper in and Carter McKoy is hers. Then Bailee marries Carter and they go to his ranch where their life begins...
I was very pleased with this story. I think it developed well and provided many enjoyable moments. I thin there were things that could have been better, namely the passion between the main couple could have been more obvious and in the final part, where Carter goes after someone, that was a bit boring and despite being quick in terms of plot, I still would dismiss it somehow.
The plot was interesting, full of unlikely possibilities, but based on history enough to be credible at times. I was fond of the girls right away and wanted them to be happy. I thought the whole lottery idea was funny and the start for interesting relationships to develop further. Bailee and Carter were strangers but their communication was slow to start, mostly because of Carter's behavior. But I was immediately captivated by them and their interactions and what they thought of each other. It was both cute and wrenching to see but I was glad everything worked out in the end and that they found someone, purely by chance, that understood and saw what was in their minds and hearts. Their relationship was well done, for the most part. Like I said, it wouldn't be bad to have more scenes where we could see how they felt about each other.
Bailee and Carter both had pasts that shaped their actions in the present. Bailee was accused of something and not only did she live with that notion over her head, but she also saw how someone she cared for forgot all about her making her feel unworthy in a way.
Carter saw his family die and from that moment on his whole existence was dedicated to silence, quietness and to create a safe heaven, in more ways than we can't think of, in order to make him feel protected.
Neither thought much of the lottery, Bailee saw it as a duty, Carter as well and he was about to quit, but after things were set in motion, they started dealing with their new arrangement and their relationship developed step by step. In the meantime they dealt with other people, expectations, things out of their control, but always acting in a way that showed the other how their hearts were and how worthy they were of the other.
I think the author took this story in a good direction, it showed the strong points of two characters who didn't feel life had much to give them unless duty and time, but after all the best things come from where we least expect them.
I was engrossed in this since the beginning and now I feel very curious over the next three stories in the series. Can't wait to read more. So far, the author, new to me, seems to be a good bet.
Grade: 8/10