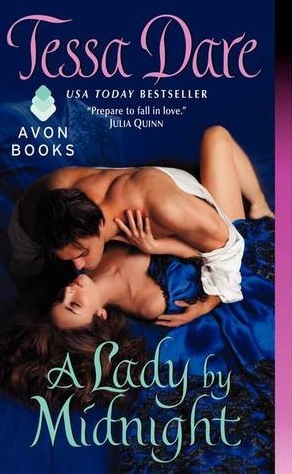 After years of fending for herself, Kate Taylor found friendship and acceptance in Spindle Cove—but she never stopped yearning for love. The very last place she'd look for it is in the arms of Corporal Thorne. The militia commander is as stone cold as he is brutally handsome. But when mysterious strangers come searching for Kate, Thorne steps forward as her fiancé. He claims to have only Kate's safety in mind. So why is there smoldering passion in his kiss?
Long ago, Samuel Thorne devoted his life to guarding Kate's happiness. He wants what's best for her, and he knows it's not marriage to a man like him. To outlast their temporary engagement, he must keep his hands off her tempting body and lock her warm smiles out of his withered heart. It's the toughest battle of this hardened warrior's life . . . and the first he seems destined to lose.
Comment: Here's another story in the Spindle Cove series by the author. This time it's Kate Taylor on the spotlight. I was quite curious to know her story considering the hero was someone so reserved...but I wasn't as impressed as that in the end.
Kate is an orphan and she doesn't remember her childhood before going to the orphanage but she always wanted to now about her parents and why they abandoned her.
Corporal Thorne is part of the militia that arrived with Bram, the hero from book #1, and he only wants peace and quiet. He recognized Kate by her birthmark and knows exactly where she comes from. When a family from the aristocracy finds Kate and tells her she's their lost cousin, Thorne believes they're lying but the truth is deeper than they all think...
I was a bit disappointed with the story. Although it followed all the elements a story like this should have and after a wonderful beginning where I felt for Kate's fate and her thoughts of being unwanted and miserable while seeing she had lost the last transport home, I couldn't help but feeling a bit bored with the way things progressed from there.
The plot had its positive aspects but I was less and less surprised as time went by and the romance didn't help because at first it was slow paced and beautiful and then it went to a point where Thorne, despite his reasonable motivations, kept saying he wasn't for her but at the same time he faked a betrothal to her...it was all so confusing that not even the author's style, which had my applause in the first two books, was enough to save this one.
Kate and Thorne seemed perfect for each other at first and they were wonderful together in the end. What happens in between didn't seem as well accomplished as that, though. The intimacy between them wasn't the problem, I just think it didn't seem as romantic at times and it was all mixed with Kate's past and everyone's expectations of what become of her. Their romance kept developing but there times where I wasn't sure about them and worse, I wasn't really that interested. Thankfully it all got solved.
The plot's main issue was Kate's past and if she was really a lady. The explanations weren't that much convincing to me, or maybe the problem was how we were told about what happened since ate was left an orphan. I just didn't see the beauty of the writing on those pages and those justifications. It didn't seem well explained somehow.
In the end, the story was ok, it had some positive things, I was curious about seeing everyone again, but there's this vibe about this novel that left me a bit disappointed and after two amazing books, I can't help thinking this one was a let down.
Grade: 6/10