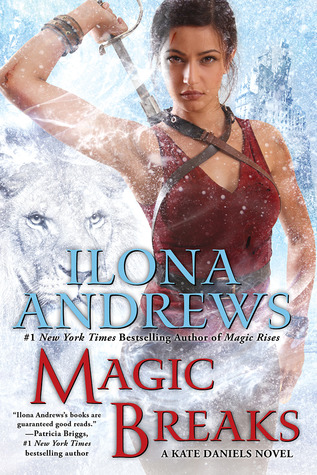 As the mate of the Beast Lord, Curran, former mercenary Kate Daniels has more responsibilities than it seems possible to juggle. Not only is she still struggling to keep her investigative business afloat, she must now deal with the affairs of the pack, including preparing her people for attack from Roland, a cruel ancient being with god-like powers. Since Kate's connection to Roland has come out into the open, no one is safe—especially those closest to Kate.
As Roland's long shadow looms ever nearer, Kate is called to attend the Conclave, a gathering of the leaders from the various supernatural factions in Atlanta. When one of the Masters of the Dead is found murdered there, apparently at the hands of a shapeshifter, Kate is given only twenty-four hours to hunt down the killer. And this time, if she fails, she'll find herself embroiled in a war which could destroy everything she holds dear…
Comment: This is the most recent installment in the Kate Daniels series by Ilona Andrews, the known team of husband and wife. I thin this is one of those series whose books I devour the moment I get them in my hands.
In this new adventure, Kate has to deal with some pack business because Curran is traveling. Kate thinks this is just another of the boring but demanding tasks that came with the job and she's hoping everything ends fast because she has Roland to worry about.
But something goes wrong and a shape shifter is accused of murdering someone from The People. Kate now has to find that shape shifter and solve the problem before her father shows up and destroys everyone and everything she cares about.
Well, I liked this book. Usually I like anything this team of writers give to the reader. There are things in the story I wish could be different, way different but I don't think they changed Kate's character like some other readers out there seem to think.
I think Kate is a strong heroine and honestly, her show off near the end of the story was quite the scene, like a movie.
Another thing, this was supposed to be the last book in the series, like the authors say in a note at the beginning of the book. But since they have a contract to write three more books, I'm not disappointed, I'm actually very eager to see what comes next.
This book is another classic Kate Daniels story, with many turnabouts and cliffhanger scenes we can't seem to avoid even knowing it might not end well. Of course Kate saves the day and she is a team with Curran, which I found the best thing ever, because Kate always seemed alone and with Curran she is so much more. Kate isn't a vicious killer although she could be. What I love the most about her is that even when she seemed reluctant in the past to care for people she did and now that she loves even more, she wants to protect and take care of those she cares about, I think her softer side is as interesting and vital as her warrior one.
Kate has a lot to worry about in this story and I think she did the best in the circumstances she was dealt with. I still consider her one of the best heroines ever.
What annoys me just a little bit is the amount of deaths that occur int he books. Sometimes it's hard to read because obviously things are written in a way to make us care about what happens and I confess I cried fr those who died and for those who watched. I understand the way the series is shaped for, but it's still something I don't enjoy reading about.
Curran and Kate are in love. I love their scenes together and how each one has something that complements the other. The end of the book is a bit of a shock but I have hopes the next books to come will show them happy and still in charge.
I also liked seeing everyone else and I especially enjoyed seeing another side of some characters that weren't as key players in the past and now were shown a side I really was interested in seeing develop. I have to say I love the rats alphas a lot!
In the end, I still loved this book. It had plot elements I think were a bit over the top, namely the fighting and the need to say how things would go wrong if a certain step was taken and so on, but this series isn't about rainbows and unicorns so it's better to enjoy the good things because they have to matter more than the bad things.
I have high hopes for the next stories. This one, for me, was still great!
Grade: 8/10