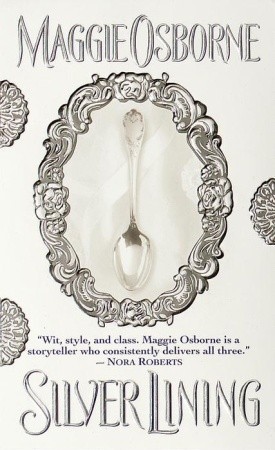 Hailed as "one of the best writers in the business" by Susan Elizabeth Phillips, multi-award-winning author Maggie Osborne delivers hilarious and heartrending tales of resilient women full of grit, pride, and dignity who shine through hard times. Now meet the most irresistible and independent heroine of them all, a woman called Low Down, who never had anything good happen to her until the day she asked for the one thing that only a man could give her. . . .
As scruffy and rootless as the other prospectors searching for gold in the Rockies, Low Down wanted nothing in return for nursing a raggedy bunch through the pox. But when pressed to reveal her heart's wish, she admits, "I want a baby." Not a husband, not a forced marriage to the proud man who drew the scratched marble and became honor bound to marry her. To be sure, Max McCord was easy on the eyes, but he loved another woman and dreamed of a different life. Yet they agreed to a temporary marriage that could end only in disaster. But can this strange twist of fate lead to the silver lining that both have been searching for?
Comment: This book has been on my radar for a long time but it never seemed time to get to it, amazingly unbelievable as it might seem. This month I went for it because September is my birthday month and I like to reserve good books - or those I think might be good books - for this month, or if I can't, at least one or two I will. Anyway, I talked about this book to a friend and we decided to do a buddy reading just to compare notes at the end.
This is Low Down story, she's a hardworking woman trying to find gold just like the the men around her. The story starts with Low Down taking care of several men with the pox. She helps, cleans, feeds and encourages them to hang on and to fight to live. When the worst is over the men decide to offer a reward to Low Down and she can ask for whatever she wants. And what she wants the most is a baby. Of course, the town's reverend won't advocate any man to help her with that without marriage and the men decide to do it lucky way, meaning the man taking the different marble out of a bag will marry Low Down.
The lucky winner if Max McCord, someone already promised to marry another woman. But Max feels this is right and it's his duty because they did promise Low Don and one respects their promises. But how will things be when there's no love and nothing in common between them?
Before saying all the great things about the book, I'll say right now why this wasn't perfect, which for some can be just a minor thing, but for me at the time I read the book seemed rather lacking and could have been done in a different, better way.
In this book there aren't any villains who act badly just because they are evil. Most actions from the unlikable characters come from jealousy, boredom, superior behavior and arrogance. So, although no one is pure evil, we still like when they don't get rewards or are punished somehow, if not to just balance the super deserving HEA the main couple gets. In this book the villain, let's say so, isn't punished the most deserving way because there's a hint of forgiveness and second chance in the air and although we all should be human and preach for forgiveness, in romances we still want justice and believable repentance, which wasn't so here...
Ok, so the best parts were the relationship between Low Down and Max and the path they take from reluctant couple to beloved pair. I really liked how their relationship seemed to go further along step by step, and each step was filled with meaning and some sort of lesson which helped secure and strengthen the relationship. None of them acts with certainty but the little things accomplish a lot because they allow them to know the other better, I really liked the tone and pace of the development of their relationship and how things seemed too hard at first but Low Down is the perfect heroine, acting for what's best. I loved the scenes where she tries to do everything to make her life worth the time she has. And her reasons seem reasonable and suited for her personality. She is smart, objective and caring and she isn't afraid of hard work. Loved seeing her through others eyes because it added layers to her, which she wouldn't see herself.
Max took some more time to come to terms with the whole thing but he too started seeing what was in front of his eyes. I especially liked how much dignity and respect he had for others and how he tried to do the right thing, same as Low Down. It was also wonderful to see him respect and appreciate the little things that together shaped his new life and the new feelings for his wife.
This story is very powerful and written with purpose where each word has a meaning. Loved the scenes with the little things and details which completed thoughts and actions. Really loved the end when Max recognized the deep meaning of two objects that are the key to his and Low Down's happiness.
This book left me feeling happy and in a good place. It's almost a grade up but still, any words would be too little because the best part is to read how two different people shouldn't find it in themselves to be happy, but they do it and it has meaning and feelings. Wonderful.
Grade: 8/10