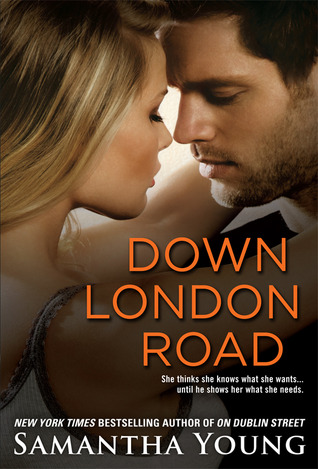 It has always been up to Johanna to care for her family, particularly her younger brother, Cole. With an absent father and a useless mother, she's been making decisions based on what's best for Cole for as long as she can remember. She even determines what men to date by how much they can provide for her brother and her, not on whatever sparks may—or may not—fly.
But with Cameron MacCabe, the attraction is undeniable. The sexy new bartender at work gives her butterflies every time she looks at him. And for once, Jo is tempted to put her needs first. Cam is just as obsessed with getting to know Jo, but her walls are too solid to let him get close enough to even try.
Then Cam moves into the flat below Jo's, and their blistering connection becomes impossible to ignore. Especially since Cam is determined to uncover all of Jo's secrets... even if it means taking apart her defenses piece by piece.
Comment: I was very curious to read this book. After my enjoyment of the first in the series which had such a divided range of opinions and that, to me, was quite good, I was interested in seeing if this one was as good or would fall into the sort of opinion those who didn't like it, shared.
This is Jo's story. She is one of Joss' co workers at the bar ans she struggles to keep her family afloat. She takes care of her younger brother and their alcoholic mother. She fears what other might think of her is she says what really happens at her house. She works two jobs and prefers relationships with wealthy men so she can help her family somehow. Everything seems to be the usual in her life until the night she meets Cam, her boyfriend's ex new guy. She and cam feel the attraction but they don't seem to get along. But once Cam moves to her building, it will be more difficult to avoid him and what he makes her feel...
I think the author wanted the reader to purposely feel antipathy towards Jo in the first book. She came across someone who dated for money and was unapologetic about it.
Now we understand what's behind that behavior and why she tries to do things others judge her for, because deep down she is a good girl trying to be there for her brother and if she feels embarrassed about her mother's attitudes, who can blame her?
I was really impressed with Jo in this book, I think apart from the whole dating someone mostly for what presents he might give her, she never asked though!, I actually think she was doing what she could and I feel I might do the same if in a similar situation. She works two jobs and she lives a very tame life, except the boyfriend's occasions, but I could understand her motivations and as the plot moves along we even see why he acts like that, why she needs to feel some sort of security and why her turning to men started and why she keeps it like that.
I also liked how we see so many recurrent characters from the previous book and even new ones coming in which will feature in the following books as well, and there's this sense of family, Jo learns to trust others, to find support and friendship in those close to her which proves she is worthy and has all the right to be herself with them, instead of showing what she believes others would want to see. I liked who Jo is in reality and was very glad to see her journey too.
The romance is hot and starts with a believable chemistry and there's lots of sexual tension before they got together. They don't seem to get along at first but it's all part of the whole "I shouldn't like you but I can't help it" stage. I thought the development between them was believable and full of twists and special moments and honestly nothing seemed off. Sure, I'd change things here and there to suit my tastes, but overall, I think it was done quite well.
Some readers think this is too sexual. This meaning the books from the start. I don't think so, I like the balance and despite the hero being a bit aggressive at times, I never thought he wasn't a good guy, he shows he is throughout the book.
There's two or three conflicts, one of them I think was there to prove a point and push a discussion, but in the end the HEA is believable and wasn't overdone, I liked how Jo and Cam started a life together like millions of ordinary people must do out there.
All in all, another successful book for me by this author and I do plan on reading the next ones soon. For me, these stories work and I had a great experience reading this one.
Grade: 8/10