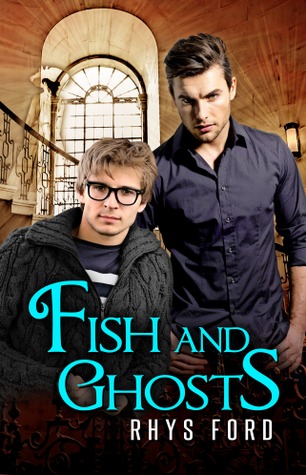 When his Uncle Mortimer died and left him Hoxne Grange, the family's Gilded Age estate, Tristan Pryce knew he wasn't going to have an easy time of it. He was to be the second generation of Pryces to serve as a caretaker for the estate, a way station for spirits on their final steps to the afterlife. The ghosts were the simple part. He'd been seeing boo-wigglies since he was a child. No, the difficult part was his own family. Determined to establish Tristan's insanity, his loving relatives hire Dr. Wolf Kincaid and his paranormal researchers, Hellsinger Investigations, to prove the Grange is not haunted.
Skeptic Wolf Kincaid has made it his life's work to debunk the supernatural. After years of cons and fakes, he can't wait to reveal the Grange's ghostly activity is just badly leveled floorboards and a drafty old house. The Grange has more than a few surprises for him, including its prickly, reclusive owner. Tristan Pryce is much less insane and much more attractive than Wolf wants to admit and when his Hellsinger team unwittingly release a ghostly serial killer on the Grange, Wolf is torn between his skepticism and protecting the man he'd been sent to discredit.
Comment: I got this book a few months ago based on the promising blurb. I had hopes this would be a fascinating and romantic story. If there is one thing I look for in m/m books is the romance and relationship element and for that, one needs the writer's talent.
This is Wolf and Tristan's story.
Wolf and his team of paranormal researchers try to prove many supernatural manifestations are purely schemes aiming for profit. When they are asked to prove Tristan is a crazy unbalanced young men, they go to the property where Tristan works and try to prove the place is not haunted as people say.
Tristan not only believes in ghosts but he wants to help them any way he can and the Grange, left by his uncle seems to be a place where ghosts come to when they are ready to leave. He agrees to the team's presence there to assure his family ghosts exist o they can leave him alone. But Wold is a surprise for Tristan, on all levels...
I won't be long with this comment. I was disappointed with this book. It didn't work for me for several reasons, being the two main ones the following:
- The romance felt flat. I didn't believe their emotions that much. I assume the author has a specific vision about how things were happening but I wasn't sod on them. At first yes, the reluctant attraction (one of my favorite things in romances) was interesting enough, but from then on, their slow paced relationship got too indifferent. They just didn't seem to click as a couple and I never felt much sexual chemistry between them, even when in more intimate moments.
Tristan is a very likable character but he also had a sort of too innocent take and although I can understand why for the story's development and vibe, I still think he got a bit whinny at some point. He just stopped being endearing to me.
Wold was more the type of character I like in these romances, more assertive, confidant and almost alpha, but he didn't push Tristan right away and things started slowly. Still, despite his personality being captivating, together they didn't seem to work that much. Then Wolf's past and origins got in the way and the story started to feel like too much was going on.
- The plot seemed interesting at first but after a while so many things were the focus, the paranormal activity, Wolf's family, the bad ghost, the tactics to stop the bad ghost from further harm, the main character's relationship... so may things that well paced and structured could make this really special. But, for me, it was just so confusing, I had some trouble concentrating on the story and on what was happening.
It's not that I didn't like it per se, but so many elements just didn't seem to match together. I can see how many lied the story and how the author's style can be interesting, but for me things didn't work. I could discount the plot if the romance was a winner, but unfortunately, neither convinced me.
I think the good parts, mostly about the ghosts presence and the why of things weren't enough to distract me from the things I believe could have been better. Some times, some books can be good but not work for someone in particular and this happened to me here.
Grade: 4/10