Born and raised to be an emotionless killing machine, Nathan is one of the most lethal Breed vampires in existence. A key member of the Order—an elite group of warriors charged with protecting both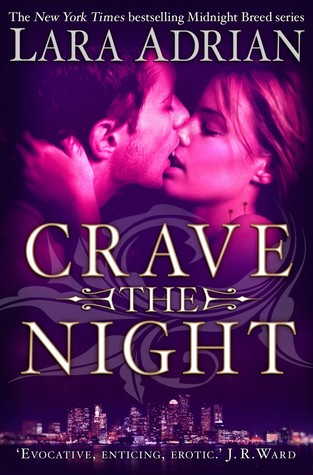 mortals and vampires—Nathan executes each mission with flawless precision and a total lack of mercy. Now he must pursue a powerful, hidden enemy. But Nathan's hard discipline and training are no match for the fierce pull he feels toward a young woman he has no right to desire—a woman of wealth and high social standing who has long been promised to another Breed male, and who may also prove to be the key to rooting out Nathan's elusive quarry.
Jordana lives a life of glittering privilege as a member of a prominent Breed family in Boston. Surrounded by fine things and fawning admirers, Jordana wants for nothing—until she crosses paths with a dark, intense warrior from the Order and finds herself swept into an impulsive, sizzling kiss that neither of them will forget. As much as she tries to deny her deep feelings for Nathan, Jordana cannot resist the craving to be near him, to break through his forbidding walls and see the man he truly is. But getting close to Nathan will thrust Jordana into a treacherous new world, forcing her to risk all she has and all she knows about herself and her past. And loving this seductive man could be the most dangerous temptation of all.
Comment: This is the most recent story in the Midnight Breed series by Lara Adrian.
This book is #12 on the series and is the second in this new arc where the protagonists are the children of the heroes and heroines from the first arc.
Nathan is one of the Gen One children rescued in the latter books of first arc. His mother found and rescued him but he always kept himself slightly apart from everyone because of the shame he feels about his past and his childhood. He keeps a tight control over himself and he is a workaholic.
Jordana is one of the high society breedmates who happens to be friends with Caris Chase, one of the Breed children. One night she kisses Nathan and that never left both their minds. But now Jordana is in danger and maybe linked to a wanted criminal, but she still can't think with Nathan around...
This book is a positive one for me. It has some new things happening, obviously closer to the end of the book, that I didn't imagine would be like that. Sure, we have an idea about where the author is going with the series, but it was still surprising how some things start developing and now there are many possibilities to explore. I'm not that interested in the fighting aspect of things, I'd prefer to see things go a more peaceful, if not diplomatic path, but at least things are interesting.
I still think the scenes where the villains talk or where we see what's in their heads absolutely dispensable, but nothing to be done there. Thankfully, it's short timed.
Nathan is one of those mysterious characters, one of those bad boys who think themselves above basic needs. To him, the elementary is sufficient. I get it that his past shaped his mind and his vision of things, of what happens around him, of his purpose. But I'd like to see him accept those things he couldn't change on his own, not because he was falling for someone. The power of love is very pretty, but he could have done it for himself first. Ok, I can't even grasp what his childhood experiences must have been if it ever happened in reality, but the trauma and abuse and shock are all there so we can understand it wouldn't be easy, ever. But Nathan is supposed to be strong and very smart and why couldn't he process what happened and still try to be happier, to live a more positive life with his mother and his friends? I get it that the hero mentality in this book is meant to be distances so the effect of a woman to love is bigger, but really, tortured heroes without self resilience can become repetitive after so many, especially if we find more than one in the same series...
Jordana is meant to be perfect but she is full of doubts about her life, her possibilities, where she's going from here. Things around her seem easy, prepared for her to take them, but she's not ready to give up on that feeling she needs to run before getting stuck. I got all her fears and doubts and applaud her decision to change things. She wasn't the air head I believed her to be in the first book and enjoyed her transformation to a more daring but still simple person.
I liked she had feelings for Nathan but didn't give in right away.
What surprised me was her actual role in the story and what that will mean for the future. I sure hope her new found heritage and relationship won't be dismissed in further books. I think it's very annoying when people live in communities and after a love story they sort of disappear.
The romance was ok. It went through all the necessary steps of a love story between a mysterious, reluctant hero and an almost perfect heroine.
Lots of secrets uncovered too, throughout the book.
We see some important characters show up and make and play a part in the story line.
We see possible hero material as well...
We see a lot of things, all very plot oriented, but apart from all the news, there's still the feeling most actions come from the same old and I hope that changes in the upcoming books.
Grade: 7/10