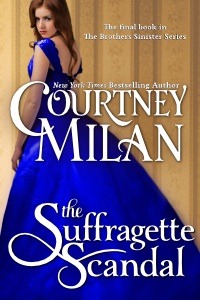 Miss Frederica "Free" Marshall has put her heart and soul into her newspaper, known for its outspoken support of women's rights. Naturally, her enemies are intent on destroying her business and silencing her for good. Free refuses to be at the end of her rope...but she needs more rope, and she needs it now.
Edward Clark's aristocratic family abandoned him to die in a war-torn land, so he survived the only way he could: by becoming a rogue and a first-class forger. When the same family that left him for dead vows to ruin Miss Marshall, he offers his help. So what if he has to lie to her? She's only a pawn to use in his revenge.
But the irrepressible Miss Marshall soon enchants Edward. By the time he realizes that his cynical heart is hers, it's too late. The only way to thwart her enemies is to reveal his scandalous past...and once the woman he loves realizes how much he's lied to her, he'll lose her forever.
Comment: This hasn't been long in the pile. Since the first book in this series was one of my favorites of last year, I went and bought all the ones following in hopes of reliving the same experience. Although the other stories weren't as wonderful, I had a good time with them and this book wasn't the exception.
This is the story of Frederica Marshall, she's the younger sister of Oliver, from book #2. Free is an independent young woman always looking to defend woman's rights and to denounce the wrongs of a society which doesn't protect those who need. However, someone is trying to sabotage Free and her newspaper for women and she isn't aware of the danger waiting.
Edward Clarke knows all about it, though. He is the rightful heir of a peerage title but he was presumed dead and the things he did to survive make him want to stay away from responsibilities but after meeting Free and wanting to help her will make Edward's life a real challenge again...
Like I said, I had a good time with this book. It wasn't the gem the fist book was, but it has a solid storyline and character development balanced enough to be special and precise and enjoyable.
The main plot is Free's work and how someone is trying to make her look bad. Throughout the book we find out the reasons for that are pure spite and a wrong sense of payback. I think this was built well enough to make it reasonable and credible for the reader. I think there was some easiness in how some things were solved but overall, I think the author did a good job in creating that feeling of how things were going bad if nothing would stop them from happening.
Also good were the interactions between the characters. We have a sub plot developing, related to Edward's past and also a secondary hint at romance through Free's friend Amanda. Although the story isn't long, it still conveyed all the necessary responses at the correct places, which makes this a job well done in my opinion. The author has a certain voice I appreciate, although I admit that if sometimes the inner doubts and thoughts in some characters were a bit less it would help to enjoy the story better. But it's not such a bad thing in the general scheme of things.
The romance was cute, I think Edward's character had the longest path to redemption whereas Free was more solid in her life, her position of life and of her own strength and feelings. In a way, maybe the romance could have been a bit more balanced because I had the feeling Edward made all the concessions and Free kind of kept her wishes and in that I expected a better compromise than the one achieved. Nevertheless, apart from this, their interactions, the little things about the other they enjoyed and the way they behaved with the other was proof that their feelings were getting more deep and true. I liked how they got their HEA but yes, I'd change a thing here and there.
The bad guy is intrinsically connected to Edward's past and the way that aspect was used seemed clever to me, although there were a couple of times I think the solutions found were too easy.
I liked the way the characters joined forces to battle someone bent on revenge for such silly reasons, but the tension was obvious and in that the author also did a good job.
All in all, this was a good book, wonderful to read, I wanted to keep reading to see what they would do so a success for me. Sadly the series is over but if one thinks properly, maybe it's better to finish high than to keep going lower, right?
Grade: 8/10