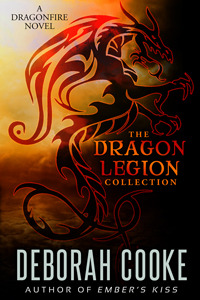 When the Dragon Legion take custody of the darkfire crystal, Drake and his fellow dragon shifters fear that the sorcery trapped in the stone is bent on destroying them. In Kiss of Danger, Alexander defends his wife and son from a vicious killer who has followed him through time. In Kiss of Darkness, Damien enters the realm of the dead to fix an old mistake, but loses his shifting abilities. In Kiss of Destiny, Thad believes he can secure the future of all the dragon shifters known as the Pyr, if only he can win the heart of the elusive woman who sparks his firestorm. Will the darkfire demand all they have to give, or is the unpredictable magic giving these dragon warriors a second chance?
This edition includes all three Dragon Legion novellas (Kiss of Danger, Kiss of Darkness and Kiss of Destiny), as well as an excerpt from

Serpent's Kiss

(the next Dragonfire novel), a cast of continuing characters and Dragonfire glossary.
Comment: I've had this book since last year, before Thorolf's story was self published, a new path for this author's writing.
This collection is actually three novellas with the explanation of what happened to the Dragon's Legion Warriors we've met in past books but that never got a satisfying end. With this collection we get to see what happened and there's also a sort of conduit between what we see on the regular full length books and the explanations from what happened to what will happen.
Just to explain the novellas plots, this is how things came up to be:
During the books, a group of dragon warriors showed up to pledge their honor to Erik, the leader of the Pyr. We discover they were warriors from ancient times that went though a curse after they were captured by a strong, magical dragon and were only released after his death and centuries of waiting when one of the Pyr recognized their prison as Dragon Warrior's Tooth and set them free.
Then some thing happens and the dragons disappear after the release of the darkfire, a magical element heavily featured on the books' plot line.
So, these novellas serve to explain why the Tooth's dragons are important and why what happened to them has any importance and influence on what is to come on the original series's time line.
I can't say they really matter in terms of individual stories but they do explain the action and the author's choice for the warriors disappearance in the original events. It also justifies the novellas' plot and why it kind of suits the original story's development.
I'll come out right now and say I didn't like the novellas that much. Their worth was more about the details and the elements that matter for the original story that started with the first book, rather than self worth. You see, the novellas are all set on the past, Grecian times, and despite offering a good explanation for things to come, on their own, the romances felt pretty stiff and forced and not very appealing to me. Plus, two of them have the regretful lovers reunited plot, which I hate, and the other not only has insta-love but also a heroine I didn't care about. All in all, nothing much to grab my attention or my enjoyment.
I understand why the author did things this way, and this edition also has a note about the books from the author explaining, which I recognize helps readers understanding things.
But the collection is all about the novellas and as a whole, I wasn't wowed by none.
Kiss of Danger

is Alexander and Katina's story. He left her after their son was born because duty called but he didn't know how long he would be gone. Now he's back, time has passed which he didn't know either and now it's time to mend things with her. Of course she never forgot him but life had to move on so she made choices which now put them apart. But a slayer shows up and changes things again. I wasn't much into this story, didn't like their time talking about what was it like for them before and the solution for their story was practical but not that special for me.
Kiss of Darkness is Damien and Petra's story set in the Underworld where Damien's actions will have an impact on future happenings. The romance didn't win me over and this was the most boring of the novellas for me because I was never convinced of their love for each other, no matter how many times they say I love you at the end.
Kiss of Destiny is Thad and Aura's story, with a insta-love/destinate mate trope. Aura is a nymph that has seen what men did to nymphs helpless to avoid them or the consequences of being with them, but since she's a nymph she likes sex a lot even though she isn't promiscuous and the thing she really doesn't want is a child. Thad knows there will be a son after they have sex, because that's how Pyr progeny happens. But he wants love and a ate forever too so the major conflict comes from these two takes on the same subject. I didn't like Aura's personality and behavior and such a short time didn't help, but overall, I had a hard time liking this.
Overall, all three stories were very lacking in development. I accept the idea of how the tropes used are better suited for novellas and short stories but despite being inserted in a well shaped series, I still didn't enjoy them not only because of my personal dislike for them but the content wasn't that special either. I think these stories work as a step to better understand some plot issues, but all things considered I don't think that missing them is such a crime...
Grade: 5/10