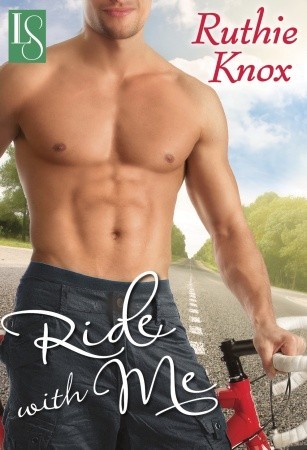 When Lexie Marshall places an ad for a cycling companion, she hopes to find someone friendly and fun to cross the TransAmerica Trail with. Instead, she gets Tom Geiger—a lean, sexy loner whose bad attitude threatens to spoil the adventure she's spent years planning.
Roped into the cycling equivalent of a blind date by his sister, Tom doesn't want to ride with a chatty, go-by-the-map kind of woman, and he certainly doesn't want to want her. Too bad the sight of Lexie with a bike between her thighs really turns his crank.
Even Tom's stubborn determination to keep Lexie at a distance can't stop a kiss from leading to endless nights of hotter-than-hot sex. But when the wild ride ends, where will they go next?
Comment: I've had my eye on this book for a long time. Unfortunately the book wasn't easy to get, especially in my country. Recently I was given a copy and I jumped in joy! I've also read another book by the author and liked it so, I had high hopes for this one too.
This is the story of Lexie, she want to do the TransAmerica Trail circuit in a bike. It's something she wanted for a long time but she's not irresponsible to do it alone. She puts an ad in the paper to have company, detailing everything but the fact she's a woman because she had guys quit on her before.
Tom Geiger's sister, however, decides to push her brother into action and set him up with Lexie - who calls herself Alex in the ad - in an attempt to make him be interested in something again, after his past turned him into an almost anti social hermit.
When the two meet, things don't start in the best way, but Lexie's attitude and Tom's responsibility don't let the other go and so they get going. At first they barely talk but then things change a lot...
I really liked this story. It had many good scenes I wanted to gorge myself in. I kept waiting for what would happen and how the characters would act.
In a way, this book's plot can be divided into two parts, although the narrative is continuous. But personally, I'd say the story has one tone until Lexie and Tom seriously talk and admit their feelings and then it becomes something different from then on. I do confess the best part was seeing them before and how the tension kept rising until they couldn't fight the attraction and feelings anymore,
This doesn't mean after that the story loses focus or strength but it's noticeable a change and, in a way, it kind calmed down.
Lexie was a great character, I envy her take on life, we get the idea she has an OK job and the hobby she loves is allowing her to go on an adventure. She seems someone who plans things and tries to do what she can. She isn't crazy, she knows she's do better with someone instead of being all alone. How I wish I were that brave to just live. Anyway, her personality seems nice and I wanted to see her succeed and finish her goal.
Tom, on the other hand, is moody and not always friendly and we get why when we learn the price he paid for being honorable in the past. I liked there was an excuse for the outcome of his actions, meaning, he did something, things didn't go all well but his reasons were good even if he didn't think it all through before acting. Sometimes we do good things and can't really see how far they would take us... so I understand his feelings and his attitude.
Of course Lexie and Tom are great together. They get to learn about each other while on the journey an I got the idea sometimes the right person might be the one to support us in all things. It was great to see that they could complement each other like that.
the sex part was slightly too much I think. But it didn't ruin the story for me.
I enjoyed the story because it was fun to see in what kind of situations the characters would get themselves into while in their bikes. It was cute to see Tom taking care of someone even reluctantly and to see Lexie going from a predicted straight trip to just have fun. This is why I think they make a good couple, they get something from the other. In the end I was happy they got their HEA.
The HEA...it does happen and we do have an idea of what the future will be like for them, being love already a certainty. But I would have liked to see it in an epilogue or something, just to remind me of the lessons they learned and the positivism they gained. It wasn't a rushed end per se, but things happened quite fast towards the end and we just know they end up happy and that could have been better done.
All in all, this was great, inspiring and happy and I'm very pleased to have spent great moments with the couple's romance and adventure. Sometimes that's the best.
Grade: 8/10