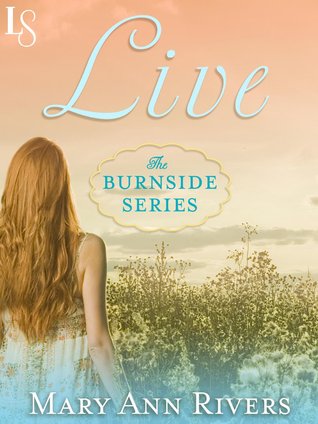 If there's an upside to unemployment, Destiny Burnside may have found it. Job searching at her local library in Lakefield, Ohio, gives her plenty of time to ogle the hottest man she has ever laid eyes on: the sexy wood-carver who's restoring the building. But as the rejection letters pile up, Destiny finds an unexpected shoulder to cry on. With his rich Welsh accent, Hefin Thomas stirs Destiny so completely that, even though he's leaving soon, she lets herself believe the memory of his scorching kisses will be enough.
Hefin can't help but notice the slender, confident woman with ginger hair who returns each day, so hopeful and determined. So when the tears start to fall, his silence—penance for a failed marriage—finally cracks. Once he's touched her, what Hefin wants is to take her back to Wales and hold her forever. But Destiny's roots run too deep. What they both need is each other—to learn how to live and love again.
Comment: I've had my eye on this book since last year. Probably not long after it was published but I only managed to get it this year and I've build up some expectations about it, so I was very eager to start it this month and then I finally did it and.... like a balloon, I deflated.
This is the story of Destiny Burnside, a young woman who we meet in the library looking for a job and sending emails and in a unemployment position I wish she could get out of. Destiny's days in the library have a positive aspect, she can look at one of the woodcarvers who's working in a project in the building and he's quite attractive, if some years older than she is. One day, on top of all the stuff in her sibling's lives that worries her, Destiny finds another rejection email and everything is too much for her, she cries.
Hefin Thomas has had his eye on the redhead that comes to the library all the time, who has a routine and seems always friendly and composed. Then one day he sees her cry and can't help himself, he talks to her and tries to help.
This is how their relationship started but with all the personal baggage, all the things in their lives now and the prospect of a separation, can these two find a happy ending?
A book featuring an unemployed woman, who had people to take care of, who would present a friendly façade but actually is feeling worried and desperate feels like something I definitely would like considering this is a description of my life right now. I was more than eager to read a story about overcoming obstacles and finding love. And I totally believed this was what I would get with this book and, in fact, it started to be so. But then the author decided to focus on things I really think just ruined everything.
This is labeled as a contemporary romance and it is, but I think the author inserted more fiction vibes than romance. Yes, the book has a couple falling in love and having sex, but there's an almost technical, clinical side to the how of their relationship that it got all the fun out of it for me. To summarize, the story seemed something we could appreciate, but the author complicated everything in order to give a more fancy and elaborated written work. I suppose this is the author's style, the way she felt she had to write, the way she likes to write. But what could be a sweet and engaging turns out to be a study in behavior, expectations and how to think about things, it was like there's a technical side to present a story and this is it. I think we are supposed to think about this as wonderfully written fictional piece of written art but I just think it was exaggerated and made me want to finish as quickly as possible and stay away from it.
Destiny is unemployed so I thought the author would focus on that and how she would feel falling in love and so on and how things would change for her, but this was put aside right away, Destiny somehow has a new job and a love life (even her thinking about it is almost philosophical) but her family has some trouble and the man she is falling for will be gone.
All this are good ideas but the author didn't convince me with the way she executed the plot. Lots of confusing things, the secondary characters had some interesting details but I wasn't very invested in them to care.
Hefin is an intriguing character but he lost his power to me when seemed to almost get a secondary role in detriment to Destiny. I can't explain but he wasn't the fact he kept saying he would leave, that he had to (even if understandable) made his presence pointless and hurtful for both. I didn't find any interest in seeing them together after a while. There's a HEA, very fantasy-like, in a way fine at least there's some good thing out of this, but in a way it was too unlikely to feel true and didn't really match the "tone" of the plot.
I wasn't sold on this one. I'm not sure I want to read the next one (I really had my hopes up!) but only to get it out of the way...
I think the author has here a fiction story with too many useless sex scenes but labeled this contemporary so offered a HEA where it maybe shouldn't because the story is meant to make the characters feel and analyze things, not exactly develop a romance story.
The writing style and intent behind the way this is written really isn't for me. There are some interesting elements, the initial scenes are good and fascinating, promising, but then it just becomes a study on behavior and it turned out boring for me. I feel disappointed, yes.