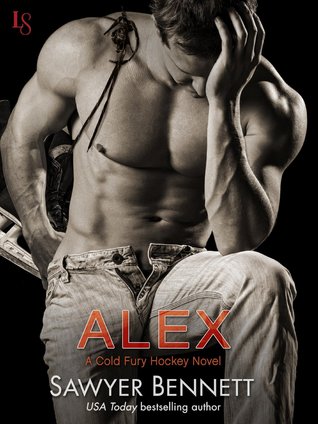 Hockey star Alexander Crossman has a reputation as a cold-hearted player on and off the rink. Pushed into the sport by an alcoholic father, Alex isn't afraid to give fans the proverbial middle finger, relishing his role as the MVP they love to hate. Management, however, isn't so amused. Now Alex has a choice: fix his public image through community service or ride the bench. But Alex refuses to be molded into the Carolina Cold Fury poster boy . . . not even by a tempting redhead with killer curves.
As a social worker, Sutton Price is accustomed to difficult people--like Alex, who's been assigned to help her create a drug-abuse awareness program for at-risk youth as part of the team's effort to clean up his image. What she doesn't expect is the arrogant smirk from his perfect lips to stir her most heated fantasies. But Sutton isn't one to cross professional boundaries--and besides, Alex doesn't do relationships . . . or does he? The more she sees behind Alex's bad-boy facade, the more Sutton craves the man she uncovers.
Comment: I've had this book to read for a while in the pile and I thought it would be a good A title for the challenge too so I decided to get to it a bit earlier than what I had planned but I'm quite pleased with this choice. This is the first book in the Cold Fury Hockey series.
This is the story of Alex, a hockey player who hasn't felt the love for the game for a long time and can't deal with his father's problems and criticism. He decides to put himself apart from others, have a more solitary existence until his team's owners decide it's enough, they want him to behave properly. They make him participate in a project for teenagers with a local social worker so his image becomes more appealing too.
Sutton Price is the social worker in charge of the project and she's happy with Alex's apparent participation because he is a role model. Things don't go too well at first and even despite their attraction, they don't get along. But as time passes and the need to discuss brings them together, can it be possible for them to become important for one another too?
Overall, I think this story isn't bad. I think Alex is a rude person, especially in the beginning. He does redeem himself, I totally understand where he comes from because if haven't had good experiences in your past, it's difficult to be cheery and friendly, even when you're by yourself, but his attitude and the way he treated people made me slightly irritated because I don't understand why people with doubtful pasts have to be portrayed as careless or if this is just to enhance his alpha moods.
On the contrary, Sutton comes from a bad past too but she's nice and positive. Again, interesting they are opposites which allows for interesting balancing issues in their relationship but in general, I would have liked them to not be just projections of what we should expect them to be.
Their personalities complement each other, I get that, and in a way they learn to cope with what each one brings into the relationship. I liked them but I wasn't always captivated by them.
This is my first book by the author and I think it's an easy writing, fluid, always moving things along. I consider this positive because it makes us want to keep reading. I admit I was never bored, if only annoyed at some scenes.
I also liked the way the book was divided and we would follow the action with Alex's POV, then Sutton's and so on until the end, instead of traditional chapters. But I liked we could have both their POVs on what was going on.
The romance started interesting but I think they became intimate too soon. Where's the fun in that, I think more sexual tension of a bit of precaution in being with someone that's supposedly different from anyone either has ever been with should be dealt more carefully, but it seems this is a contemporary problem, people rush into sex but personally I think that detracts from the romance or the fantasy of it which should be a valid point in romance books.
Their relationship evolved well, despite the parts where I think things didn't go as smoothly as they could, namely before Alex realized Sutton was important to him.
The plot doesn't have much to it, the biggest issue is Alex's relationship with his father and how that shaped who he is, how he is and why he acts they way he does. I liked we saw a bit of a resolution there, it's always good to be positive after all, but the way things got solved seemed a bit too quick for the amount of time Alex suffered over that. But I think Alex, so clever in some things (and being a grown up...), should have realized that sooner even if he kept on being reluctant to act on solving things.
The end has a cute scene, a bit too much, but I liked how things ended up well. The next story seems interesting, I might get the book one day and get to it.
This story was positive, all things considered, and entertaining while I was reading.