I'll take a few sentences to just present a summary of the last three books I've read in 2015, so I can get the blog tidy and on track to this new year's reads.
These three books were interesting, two just slightly better than the third, for specific reasons but I still wanted to share without writing a full comment when in reality there isn't much I can say about them that many others haven't already and certainly in a much more eloquent manner. Anyway, just a few comments about the books and my general opinion about them.
Ever since their scorching affair ended years ago, Julian, the Nightkind King, and Melisande, daughter of the Light Fae Queen, have tried to put the past behind them—and distance between them. But when a war breaks out between Julian and Justine, a powerful Vampyre of the Nightkind council, they find themselves thrown together under treacherous circumstances…
Kidnapped as leverage against Julian, Melly is convinced that her former lover won't be rushing to her rescue. But when Julian gives himself up to save her, they both end up Justine's captives. Armed only with their wits and their anger, Melly and Julian must work together to escape. But will they be able to ignore their complicated history, or will the fiery passion that once burned them blaze again?
Comment: This is the 8th installment in the Elder Races series, featuring Julian and Melisande. Apparently they had an affair/relationship until 20 years ago but he got proof of her cheating and they broke up. But now she's in danger and he still cares and goes out to rescue her. Everything ends up well and they talk and get back together. I thought it was pretty basic, not interesting enough when it came to the plot but the thing I found weaker was their relationship itself, I don't like lovers reunited tropes and this was one of it. I liked Julian but Melly isn't the type of heroine I like, even if she was always decent and worthy. It just didn't feel amazing to me. It was the last book of the year.
Nefertiti and her younger sister, Mutnodjmet, have been raised in a powerful family that has provided wives to the rulers of Egypt for centuries. Ambitious, charismatic, and beautiful, Nefertiti is destined to marry Amunhotep, an unstable young pharaoh. It is hoped by all that her strong personality will temper the young Amunhotep's heretical desire to forsake Egypt's ancient gods, overthrow the priests of Amun, and introduce a new sun god for all to worship.
From the moment of her arrival in Thebes, Nefertiti is beloved by the people. Her charisma is matched only by her husband's perceived generosity: Amunhotep showers his subjects with lofty promises. The love of the commoners will not be enough, however, if the royal couple is not able to conceive an heir, and as Nefertiti turns her attention to producing a son, she fails to see that the powerful priests, along with the military, are plotting against her husband's rule. The only person wise enough to recognize the shift in political winds—and brave enough to tell the queen—is her younger sister, Mutnodjmet.
Observant and contemplative, Mutnodjmet has never shared her sister's desire for power. She yearns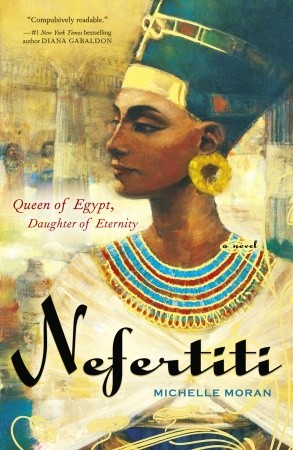 for a quiet existence away from family duty and the intrigues of court. Her greatest hope is to share her life with the general who has won her heart. But as Nefertiti learns of the precariousness of her reign, she declares that her sister must remain at court and marry for political gain, not love. To achieve her independence, Mutnodjmet must defy her sister, the most powerful woman in Egypt—while also remaining loyal to the needs of her family.
Love, betrayal, political unrest, plague, and religious conflict—Nefertiti brings ancient Egypt to life in vivid detail. Fast-paced and historically accurate, it is the dramatic story of two unforgettable women living through a remarkable period in history.
Comment: I borrowed this book, in Portuguese, from the person who has been friendly enough to let me borrow more books lately. This is a book about Nefertiti told by her sister whose name I can't spell but with the nickname Mutny. So basically the author did some research on Nefertiti and then wrote an historical fiction story, more fiction than historical and told us Neferitit's life story. I think it has too many unknown and made up things to be a proper historical but when it comes to romance and adventure it's fine. Mutny is the narrator of the story and I liked her more than Nefertiti and was more interested in her than the famous sister - who might not be her sister at all, according to historical sites. So bear in mind that this has a lot of author's personal ideas...still it was interesting enough to read, it was fluid and I read it fast. It was also entertaining if not brilliant.
Grade: 7/10
A foundling raised in a world of humans
Growing up, orphaned Josephine didn't know who or what she was—just that she was "bad," an outcast with strange powers. Her baby brother Thaddeus was as perfect as she was flawed; protecting him became her entire life. The day he was taken away began Jo's transition from angry girl... to would-be superhero... to enchanting, ruthless villain.
A lethally sensual enforcer on a mission
A threat to the Møriør has brought archer Rune the Baneblood to the mortal realm to slay the oldest living Valkyrie. Whether by bow or in bed, he never fails to eliminate his target. Yet before he can strike, he encounters a vampiric creature whose beauty conceals a black heart. With one bite, she pierces him with aching pleasure, taking his forbidden blood - and jeopardizing the secrets of his brethren.
A boundless passion that will lead to sweet ruin...
Could this exquisite female be a spy sent by the very Valkyrie he hunts? Rune knows he must not trust Josephine, yet he's unable to turn her away. Despite his millennia of sexual conquests, he can't ignore the unfamiliar longing she arouses deep within him. When Jo betrays the identity of the one man she will die to protect, she and Rune become locked in a treacherous battle of wills that pits ultimate loyalty against unbridled lust.
Comment: Sweet Ruin is the latest installment in the Immortals After Dark series by Kresley Cole. We meet Jo, a sister to Thad, a younger character we've known for some books now. This is Jo's story, about her life, her choices and who and what she is. Jo really doesn't know what she is since she died at 11 and woke up again right after. She randomly meets Rune, a dark fey warrior who wants to kill Nix and the two of them quickly become an item if not intimate right away. Their happiness was planned however and Nix plays a part to make it happen. I liked the book simply because we get to see so many beloved characters. I liked the main romance but to be honest, it wasn't as captivating as some other titles. Some scenes were interesting and now I have even more characters I want to see happy and with mates. The romance wasn't spectacular but as always, it was good to see them get an HEA and be part of a continuous plot that still features so many loving couples.
Grade: 7/10