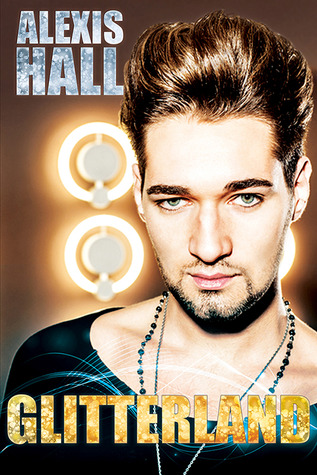 Once the golden boy of the English literary scene, now a clinically depressed writer of pulp crime fiction, Ash Winters has given up on love, hope, happiness, and—most of all—himself. He lives his life between the cycles of his illness, haunted by the ghosts of other people's expectations.
Then a chance encounter at a stag party throws him into the arms of Essex boy Darian Taylor, an aspiring model who lives in a world of hair gel, fake tans, and fashion shows. By his own admission, Darian isn't the crispest lettuce in the fridge, but he cooks a mean cottage pie and makes Ash laugh, reminding him of what it's like to step beyond the boundaries of anxiety.
But Ash has been living in his own shadow for so long that he can't see past the glitter to the light. Can a man who doesn't trust himself ever trust in happiness? And how can a man who doesn't believe in happiness ever fight for his own?
Comment: I first heard about this title in
Wendy's review
at
her site
. I got curious about it and added it to my TBR list but it was something I kept thinking about because of its unique main character so I got it and had to read it, which happened a few days ago. I liked it so much...
This is the story of Ash Winters, a British writer who suffers from depression, bipolar disease and his unique brand of personality. He feels everything will be damaged in his hands so he lives pretty much day by day, always expecting the worst and marveling when he has a good day.
One night, at a party where he didn't want to be, he meets Darian, a man from Essex who glitters all over. They are attracted to each other, although we get only Ash's thoughts as he's the narrator, they spend the night together but Ash wakes up feeling bad and leaves. They meet again at one of Ash's signings and from then on, their relationship just has to develop, Darian makes sure of it. But Ash feels embarrassed by his illness and somehow he feels he will ruin things or feels that it's inevitable. But is it?
I really liked this book, I think the author - and this is the first story I've read by him - is very talented and created a very complex story in a not so big book, something not all writers can do. And most important, he used a theme not seen very often in romances, at least not with this focus, and done in a believable way. I feel quite glad to have read this story.
The most fascinating thing - and with interest - in this book is Ash, the main character and narrator. I just loved how the author created such a personality and with the issues that come with having a depression and being bipolar. There is still so much lack of information, of known facts and serious discussions about what it means to have a depression and so many people still think it's just people being lazy that I applaud this story alone for helping understand a little bit of what it could mean. It was especially interesting and important how the author used enough information to show us a research work has been done but not to the point where it would feel like information dumping.
Ash has a personality that, even without the disease, would have make him special. He is intelligent, witty and has a level of sarcasm I appreciated a lot. I liked his voice, I liked knowing some of his thoughts. In some situations his opinions and ideas did make me laugh out loud, I just couldn't help it. But in his darker scenes/moments or when he was talking or discussing his illness, I also liked reading about it, I liked how this book has scenes that make me laugh but this is a serious book, about serious issues and not just a silly excuse for the main couple to have sex.
The writing is a subject many readers comment on, that Ash has a polished vocabulary...well, I did appreciate it. I've read more wordy books where I couldn't stand the character but in this case, Ash's words (meaning, the author's) did speak to me in a very pleasant way. For me,, it wasn't exaggerated, I actually loved every sentence, somehow it made sense to me, the words, the details, the pace of the story told this way...it worked for me quite well.
Sure, not everything is perfect and some vocabulary was precisely what bothered me, but not Ash's. Darian is a cute character, he could be a simple caricature but I could glimpse his mood, his inner beauty if one can say that, and it was great to oppose him to Ash and see them balance each other. However, my biggest difficulty in the story was to read Darian's lines. I can understand why and it was quite the touch to insert a realistic vocabulary this way, but it did make it difficult for me. From others' opinions it seems even to English speaking readers it was tricky, but I'll confess I missed many things, I just couldn't seem to process some of the words. I guess I missed some of the impact this was suppose to have on me, but I got the idea...
Again, I loved this story. Seriously done but with hints of a humor I could appreciate, a theme not very common but well explored and simplistic enough to be understandable... I couldn't put this story down.
Now I have doubts, some of the author's works don't appeal to me the way this one did, but if the writing is always as dead on as it seems to be by what I've read here... I think I'll try another book and see if this wasn't just a very lucky hit on.
I do recommend this one, the plot, the pace, the writing all seemed very good to me.